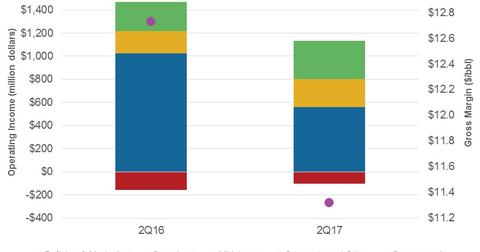 Analyzing Marathon Petroleum's Segmental Earnings in 2Q17
By Maitali Ramkumar

Updated
Segmental earnings
Marathon Petroleum's (MPC) operating income fell 22% to $1.03 billion in 2Q17—compared to 2Q16.
The Refining segment reported a fall of 45% YoY in its operating income to $562 million in 2Q17. The fall was due to a decline in the refining margin. Marathon Petroleum's gross refining and marketing margin fell by $1.4 per barrel to $11.3 per barrel in 2Q17—compared to 2Q16. The decline was mainly due to higher oil and feedstock costs led by the narrow sweet-sour spread. The fall was partially offset by the wider blended LLS 6-3-2-1 crack.
Article continues below advertisement
In contrast, Marathon Petroleum's peer Valero Energy (VLO) noted a rise in its gross refining margin by $0.07 per barrel to $8.66 per barrel in 2Q17—compared to 2Q16. Tesoro's (TSO) consolidated refining index value rose from $13.9 per barrel in 2Q16 to $14.7 per barrel in 2Q17. The higher index points towards a likely rise in Tesoro's refining margin in 2Q17—compared to 2Q16. Phillips 66 (PSX) will likely see a rise in its refining margins YoY in 2Q17 due to the higher USGC WTI 3-2-1 crack in 2Q17—compared to 2Q16.
Speedway and Midstream segments
In 2Q17, Marathon Petroleum's operating income from the Speedway segment rose 24% YoY to $239 million. The operating income rose due to an increase in the gross margin of fuels (gasoline and distillate) and merchandise in 2Q17—compared to 2Q16. Marathon Petroleum's merchandise gross margin rose from 28.7% in 2Q16 to 29.2% in 2Q17. The gasoline and distillate gross margin rose to $0.18 per gallon in 2Q17 from $0.16 per gallon in 2Q16. However, the rise in the margins was partially offset by a decline in fuel sales volumes. Fuel sales volumes fell from 1.55 billion gallons in 2Q16 to 1.48 billion gallons in 2Q17.
Meanwhile, the Midstream segment's 2Q17 operating income rose 31% to $332 million—compared to 2Q16. The operating income rose due to higher income from the natural gas and NGL processing and fractionating segment. The income rose due to higher volumes and better prices. Also, Marathon Petroleum earned more from its equity stake in pipelines. The recently acquired Ozark pipeline contributed to the Midstream segment's earnings.