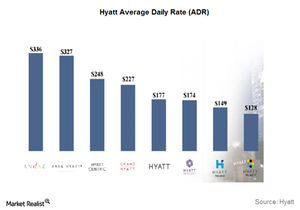 Analyzing Hyatt's Key Metrics Ahead of Its 2Q17 Results
By Ally Schmidt

Jul. 28 2017, Updated 7:41 a.m. ET
Revenue per available room
A hotel's operational efficiency is measured by its RevPAR (revenue per available room), which is calculated by dividing a hotel's total guest room revenue by its room count. The two main factors driving a hotel's RevPAR are its occupancy rates and average daily rates.
In 1Q17, Hyatt's RevPAR fell 4.7% YoY (year-over-year), in constant currency, across its system-wide properties. Growth was 4.4% in actual dollars, much higher than 2016's RevPAR growth of 2.5% YoY on a constant dollar basis and 1.9% YoY in actual dollars.
Article continues below advertisement
Both occupancy and average daily rate growth were contributors to Hyatt's RevPAR growth in the quarter. Occupancy for the quarter rose 2.0 percentage points to 71.5%, compared with 69.5% in 1Q16. Its average daily rate grew 1.8% YoY on a constant dollar basis and 1.5% in actual dollars. It increased to $182.50 in 1Q17, compared with $179.78 in 1Q16.
Strong pipeline
In 1Q17, Hyatt's net hotel growth was at 9% YoY. It added 11 new hotels to its list, taking its total to 667 hotels. Overall, 1,856 rooms were added, taking Hyatt's net room growth for the first quarter to 7% YoY.
Article continues below advertisement
Outlook
Hyatt expects to open another 60 hotels in 2017. It has executed contracts for 305 hotels, or 66,000 rooms, the same total as at the end of 2016. The company continues to expect RevPAR growth of 0%–2% YoY across all Hyatt properties in 2017. Hyatt's strong room pipeline under execution and RevPAR growth are expected to drive much of its EBITDA (earnings before interest, tax, depreciation, and amortization) growth for the year.
Investors can gain exposure to the hotel sector and by investing in the First Trust Consumer Discretionary AlphaDEX ETF (FXD), which has a ~15% exposure to the hotel, restaurant, and leisure sector, including a 1.1% exposure to Wyndham Worldwide (WYN), a 0.55% exposure to Hyatt (H), a 0.9% exposure to Hilton Worldwide Holdings (HLT), and a 1.2% exposure to Marriott International (MAR).