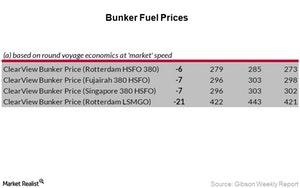 Analyzing Bunker Fuel Prices in Week 29
By Sue Goodridge

Dec. 4 2020, Updated 10:53 a.m. ET
Week 29
Previously in this series, we saw that VLCC rates fell and Aframax rates rose in week 29. In this part, we'll shift our focus to the cost side—bunker fuel prices.
Article continues below advertisement
Crude oil prices
Brent crude oil prices rose to $49.7 per barrel in the middle of the week from $46.91 per barrel on July 14, 2017. However, crude oil prices settled at $48.06 at the end of the week. At the beginning of the week, crude oil prices rose due to lower US crude and product inventories, which fell to the lowest level since December. Towards the end of the week, prices fell due to a report that OPEC's oil supply is expected to exceed $33 million per day this month.
Bunker fuel prices
On July 20, 2017, average bunker fuel prices were $339.5 per ton—compared to $323 per ton a week ago on July 13, 2017. According to the Gibson report for week 29, bunker fuel prices at Rotterdam were $292 per ton on July 20, 2017—up from $279 per ton the previous week. Similarly, bunker fuel prices at the Port of Fujairah rose to $310 per ton on July 20 from $296 per ton on July 13, according to the same report.
Bunker fuel cost is a vital cost component for all shipping companies. Shipping companies include crude oil carriers, dry bulk shippers, product oil carriers, and LNG (liquefied natural gas) carriers. The bunker fuel cost is closely knit with oil prices. A rise in oil prices translates into a rise in bunker fuel prices. Some of the major crude oil tanker companies are Frontline (FRO), DHT Holdings (DHT), Nordic American Tankers (NAT), and Euronav (EURN). Navios Maritime Partners (NMM) is a major dry bulk shipper. GasLog (GLOG), Golar LNG (GLNG), and Teekay LNG Partners (TGP) are LNG carrier companies.