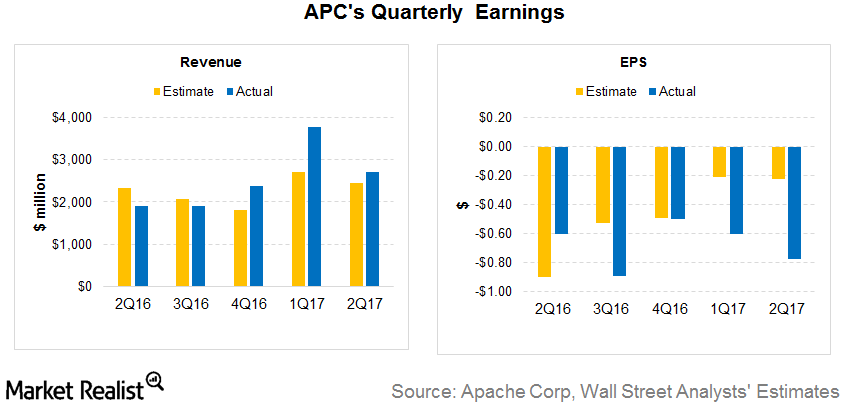 Anadarko's Mixed 2Q17: Earnings and Revenues versus Forecasts
Anadarko's 2Q17 revenue
Anadarko Petroleum (APC) reported its 2Q17 earnings on July 24, 2017, after markets closed. The company reported revenue of $2.7 billion, compared with the analyst estimate of ~$2.5 billion. In the previous quarter, APC reported revenue of ~$3.8 billion, while in 2Q16, APC reported revenue of ~$1.9 billion.
Article continues below advertisement
Anadarko's 2Q17 earnings
Anadarko Petroleum reported an adjusted net loss of $423 million in 2Q17. In the same period in 2016, APC reported a net loss of $304 million, and in 1Q17, its adjusted net loss was $330 million.
Anadarko reported adjusted EPS (earnings per share) of -$0.77 in 2Q17, compared with the estimated EPS of -$0.22. APC's EPS one year ago in 2Q16 and 1Q17 was -$0.60.
Unlike its revenue, APC's 2Q17 EPS came in worse than the analysts' expectations. APC's earnings have mostly come in worse than expectated in the past few quarters.
Key 2Q17 highlights
In 2Q17, APC closed divestitures totaling over $600 million. Anadarko noted that it is completing several "core components" of the legal and contractual framework for its LNG (liquified natural gas) project in Mozambique. APC's 2Q17 press release stated: "The progress helps position the company to advance negotiations in securing long-term LNG offtake contracts as it continues toward a final investment decision."