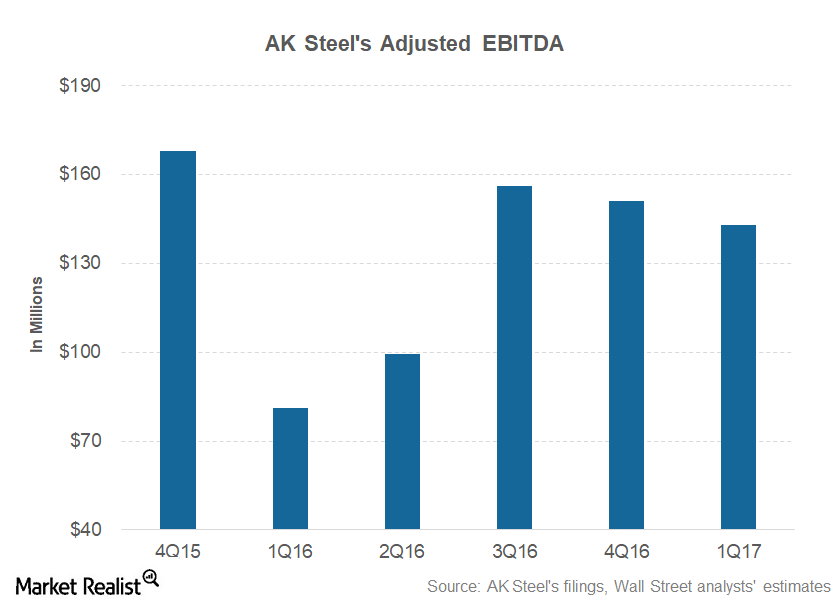 How Are AK Steel's 2Q17 Earnings Estimates?
AK Steel's 2Q17 earnings estimates
Previously, we looked at AK Steel's (AKS) 2Q17 revenue estimates. In this part, we'll see what analysts project for the company's 2Q17 profits. While there are several metrics that we can use to measure a company's profitability, we use EBITDA (earnings before interest, tax, depreciation, and amortization) for steel companies (NUE) like U.S. Steel Corporation (X) and ArcelorMittal (MT).
Article continues below advertisement
Consensus estimates
According to consensus estimates compiled by Thomson Reuters, AK Steel is expected to post an adjusted EBITDA of $134 million in 2Q17. It posted EBITDA of $142 million in 1Q17 and $99 million in 2Q17. AK Steel's 2Q17 EBITDA is expected to fall on a sequential basis.
Key drivers
Notably, AK Steel reported sequentially lower EBITDA in 1Q17. Most steel companies, with the exception of U.S. Steel Corporation (X), posted higher sequential profits in 1Q17 due to rising steel prices. In 1Q17, higher iron ore prices dented AK Steel's profitability despite higher average steel selling prices. We should remember that AK Steel buys iron ore from third parties. AK Steel is impacted negatively when iron ore prices rise (CLF).
Notably, iron ore prices fell sharply in 2Q17, which could bode well for AK Steel's profitability. We could see the complete impact of lower iron ore prices in AK Steel's 3Q17 earnings because there's a lag in AK Steel's iron ore purchases. However, AK Steel's maintenance costs could rise in 2Q17, which could have a negative impact on its earnings in the quarter.
In the next part, we'll look at the key updates that markets can look forward to in AK Steel's 2Q17 earnings call.