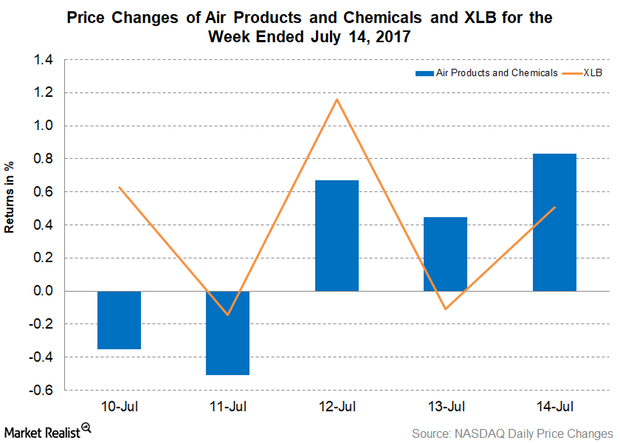 Air Products and Chemicals Has Something New for Glass Manufacturers
Air Products and Chemicals new product
On July 12, 2017, Air Products and Chemicals (APD) launched a new oxy-fuel burner. The product is primarily targeted at glass manufacturers, and APD claims that the burner will help glass manufacturers produce at full capacity in aging furnaces.
APD claims that the product will be cost-effective and will help companies avoid downtime during regenerator repairs.
APD glass applications engineer Bill Horan stated: "Aging equipment can lead to reduced pull rate and shortening of a furnace campaign, which can result in tens of thousands of dollars in lost revenue per day. The ThruPorte burner has a durable design that can be easily installed while the furnace is running, offering glass manufacturers a safe and rapid solution for restoring furnaces to full production."
Article continues below advertisement
APD's stock performance
APD had a positive week last week (ended July 14), with the stock gaining 1.1% and closing at $145.57. The stock was trading 3.1% above the 100-day moving average price of $141.23, indicating an upward trend in the stock.
The analysts' consensus indicates further upside for the stock, with a target price of $153.80, implying a potential return of 5.70% from its closing price of $145.57 on July 14, 2017. APD's relative strength index of 56 indicates that the stock is neither overbought nor oversold. In 2017, so far, the stock has returned 1.20%. APD's 52-week low stood at $129.00, while its 52-week high was at $150.45.
For the week ended July 14, APD underperformed the Materials Select Sector SPDR Fund (XLB), returned 2.1%. XLB has 4.60% in APD. The top holdings of the fund include Dow Chemical (DOW), DuPont (DD), and Monsanto (MON), with weights of 12.2%, 12.0%, and 8.4%, respectively, on July 14, 2017.