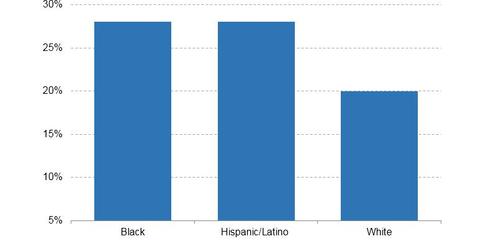 A Twitter Undertaking that Speaks Volumes
By Neha Gupta

Updated
Castleberry-Singleton to lead inclusion efforts
Twitter's (TWTR) less diversified workforce is a stain that the company has struggled to eliminate. A recent change in the company's inclusion and diversity office could help fix the problem once and for all and potentially help Twitter bolster its advertiser and investor appeal.
Last month, Twitter hired diversity evangelist Candi Castleberry-Singleton as its vice president of inclusion and diversity. Castleberry-Singleton has a long history of championing and spearheading corporate workforce diversity efforts. For example, she headed global inclusion and diversity programs at Motorola and Sun Microsystems.
Article continues below advertisement
Inclusion and corporate success go together
Castleberry-Singleton also has a background in sales and marketing, which might imply that she understands how workplace inclusion and marketing mix to produce success. Indeed, she believes that "diversity must been seen as a core business goal that is essential to a company's success," according to USA Today.
At Twitter, Castleberry-Singleton replaced Jeffrey Siminoff, who stepped down early this year.
Twitter's leadership has identified diversity as a priority. The company's CEO, Jack Dorsey, said last year that Twitter would not be relevant unless it was inclusive and representative of the community it serves.
As Pew Research Center's findings illustrated in the chart above show, Twitter is more popular among black users than it is white users. Yet, according to Twitter's own diversity report, nine out of ten people it employees are either white or of Asian descent. African-Americans make up just about 3.0% of Twitter's staffers.
Dorsey understands where the problem lies
Though outsiders may view slow subscriber and revenue growth as Twitter's greatest problems, the fact that Dorsey views inclusion as a priority implies that it's vital to getting the company out of the weeds.
Workforce inclusivity is a tech problem that companies such as Facebook (FB), Microsoft (MSFT), Alphabet's (GOOGL) Google, and Netflix (NFLX) are also grappling with.