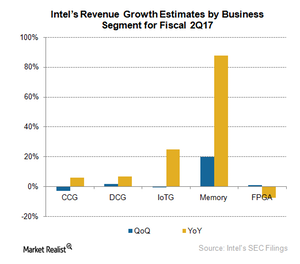 A Look at Intel's Revenue Growth Drivers and Deterrents
By Puja Tayal

Jul. 14 2017, Updated 6:05 p.m. ET
Intel's 2Q17 revenues to reflect competition from AMD
In 1Q17, Intel (INTC) saw strong growth in its ASP (average selling price) across its PC, Data Center, and IoT (Internet of Things) segments. Its Memory segment reported record revenues as the company started shipping its 3D NAND. 
However, the company may not enjoy high ASP in the PC market in 2Q17 as Advanced Micro Devices (AMD) launched competitive Ryzen processors in March and April 2017 at lower prices. Moreover, seasonal weakness in PC sales could reduce Intel's overall 2Q17 revenues.
Article continues below advertisement
Client Computing Group
The Client Computing Group (or CCG) is Intel's largest segment, contributing 54% to the company's total revenues. The company's monopoly in the high-end PC space and its segmentation strategy helped it report revenue growth despite overall decline PC unit shipments. However, the company would no longer be able to enjoy this advantage as AMD's 14nm (nanometer) Ryzen CPUs forced Intel to cut its prices.
Increasing competition from AMD could reduce Intel's CCG revenues in 2Q17. This competition could continue until Intel launches its next-generation 10nm (nanometer) processors in fiscal 1Q18.
Data Center Group
The Data Center Group (or DCG) is Intel's second-largest group, contributing 28.6% to the company's total revenues. Revenue declines in the Enterprise Server segment slightly offset double-digit revenue growth in cloud, networking, communications, and adjacency like Omni-Path Fabric and silicon photonics. The Data Center Group is likely to report single-digit revenue growth in 2Q17.
However, things could change in 3Q17 as AMD launches its x86-based EPYC server processor, which would compete with Intel's upcoming Skylake server processor. Even if EPYC isn't able to gain considerable market share, it could discourage Intel from charging high ASP, thereby slowing its DCG revenue growth and profits.
Article continues below advertisement
IoT Group
Intel's IoTG (IoT Group) is focused largely on industrial, retail, and smart security cameras. This group is likely to grow by double-digit percentage points on a YoY basis in 2Q17. The segment may report a slight decline in fiscal 3Q17 as the company discontinues its three IoT products—Joule, Galileo, and Edison.
Memory
The Memory segment is Intel's fastest-growing business, as the company started realizing revenues from its investment in the China (MCHI) facility. The company started shipping 3D NAND and Optane SSDs (solid-state drives) in 1Q17, which drove up memory revenues 55% YoY. This momentum is likely to continue or even increase in 2Q17 as NAND prices increase.
Micron Technologies (MU) reported 23.5% YoY growth in NAND revenues, driven by strong ASP and increased demand. Intel's 3D XPoint-based Optane SSD has finished most of its product qualifications, and its revenue contribution would be visible in 2Q17.
FPGA
It has been more than five quarters since Intel formed the FPGA (field programmable gate array) segment after integrating Altera. The segment reported 18.4% YoY growth in revenues, and rival Xilinx (XLNX) reported 6% YoY growth in revenues in 1Q17.
Intel's Stratix 10 FPGA, built on its 14nm node, is one year behind Xilinx, which reduces Intel's potential to win a larger market share. Despite strong competition from Xilinx, Intel's FPGA segment could see double-digit growth in 2Q17 as well.
Intel's 2Q17 revenues could decline sequentially, mostly due to weak PC demand and increasing competition from AMD. Next, we'll look at Intel's profitability.