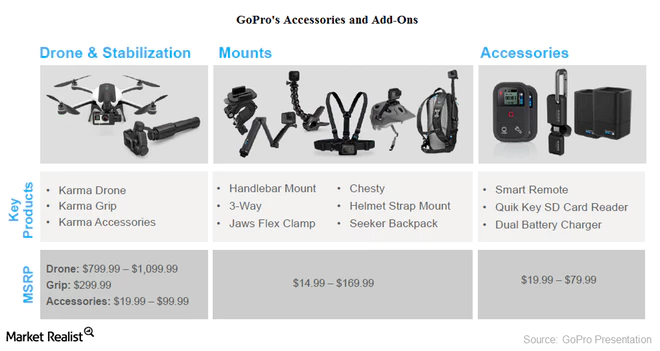 A Look at GoPro's Long-Term Challenges
Expensive products
GoPro (GPRO) expects revenue from its Karma drone to rise in 2Q17. The drone is priced higher than competitor products. According to GoPro, the Karma is not only a drone but also a handheld stabilization system. It has received encouraging ratings on retail platforms such as Best Buy (BBY) and Amazon (AMZN). However, GoPro needs to win back customer confidence after the Karma was recalled last October due to a defect.
Article continues below advertisement
The Karma drone is priced at $799.99, which includes the Karma grip. The HERO5 Black camera bundled with the drone and the Karma grip is priced at $1,100. Accessories are priced between $19.99 and $99.99, which means the Karma, including accessories, can cost more than $1,000. GoPro products are expensive compared to peer companies' products. DJI's drone products such as the DJI Spark are available at $499, while high-end products such as the DJI Phantom 4 Advanced and DJI Phantom 4 Pro cost $1,199 and $1,499, respectively.
Pacific Crest estimates that GoPro will sell 150,000 Karma units in 2017, indicating incremental year-over-year revenue of $88.0 million.
Saturation of the camera market
Analysts believe the digital camera market is saturated since there are several products and immense competition among companies. GoPro has to compete with heavyweights such as Samsung (SSNLF), Eastman Kodak (KODK), and Nikon in order to drive revenue. GoPro is a late entrant into the 360-degree camera segment. Revenue from its Fusion product might be impacted in 4Q17.
GoPro also needs its existing consumers to upgrade their products on a regular basis in order to generate recurring revenue. It will be interesting to see if GoPro's first trade-up program is a success.