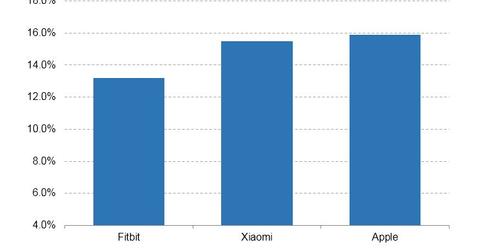 A Look at Apple's Hurdles in the Smartwatch Business
By Ruchi Gupta

Updated
WatchOS 4 update improves Workout app
The world is waiting for the third generation of the Apple Watch, which some speculate could arrive this fall. Apple (AAPL) took the opportunity at its annual developer event last month to announce updates to the operating system that powers the device.
The watchOS 4 update features several improvements, including the ability to automate the syncing of a music playlist and new animated watch faces. The software update has also improved the Workout app.
Article continues below advertisement
Apple insists that the Apple Watch is popular
These software updates no doubt show that Apple is trying its best to make people interested in the Apple Watch. Apple doesn't disclose its Apple Watch sales figures, but it insists that the device is popular. For example, the company said that its watch sales doubled in the March quarter.
Independent researchers have also appeared to support Apple's watch business success. According to Strategy Analytics, Apple dominated the wearable tech industry with a 15.9% market share as of the end of 1Q17, compared to 13.2% for Fitbit (FIT) and 15.5% for China's (FXI) Xiaomi, as we can see in the chart above. Apple's other competitor in this space is Garmin (GRMN).
Why people are resisting the Apple Watch
A recent survey by UBS (UBS) showed that there still exist strong barriers for Apple in its Smartwatch business. UBS interviewed 8,000 Smartphone users in May 2017 and discovered that the major reason people weren't purchasing the Apple Watch was that they feel they didn't need it, Business Insider reported. Some people also felt that the device was too expensive and lacked attractive or relevant features.
Perhaps addressing these issues will help Apple to achieve more success in the Smartwatch business.