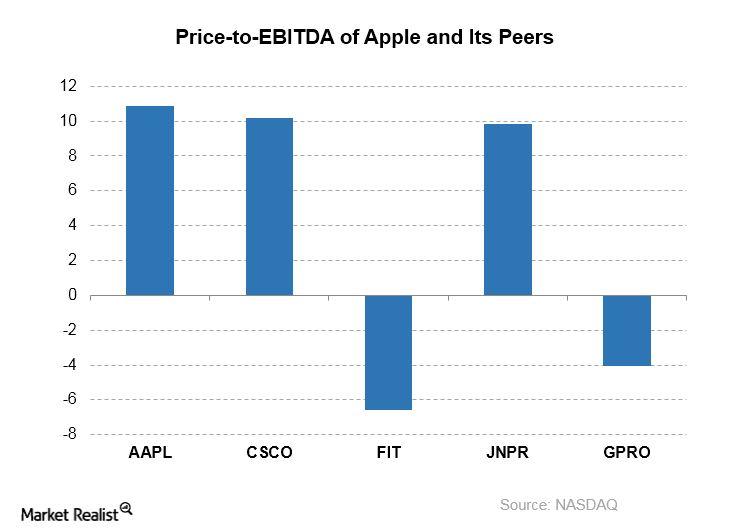 A Debt Analysis of Apple
By Ruchi Gupta

Jul. 12 2017, Updated 3:05 p.m. ET
Dissecting Apple's debt situation
Apple's (AAPL) balance sheet reflects short-term debt and long-term debt of $13.9 billion and $84.5 billion, respectively, putting its total debt at $98.5 billion. The company has reported total capital of $232.6 billion, so its total debt-to-total capital ratio is 42%.
Peer companies Cisco Systems (CSCO), Fitbit (FIT), Juniper Networks (JNPR), and GoPro (GPRO) have total capital of ~$97.9 billion, ~$0.9 billion, ~$7.2 billion, and ~$0.4 billion, respectively.
Apple has debt-to-equity, debt-to-assets, and debt-to-EBITDA (earnings before interest, tax, depreciation, and amortization) ratios of 73.5x, 0.29x, and 1.4x, respectively. 
Another important ratio, EBIT-to-interest, also known as the interest coverage ratio, measures how easily a company can pay the interest on its outstanding debt. Apple's interest coverage ratio is ~121.9x. Its debt on enterprise value is 13%.
Article continues below advertisement
EBITDA
Apple's fiscal 2016 EBITDA of $69.7 billion reflected a fall of 2%. Wall Street is looking for EBITDA of $71.8 billion for fiscal 2017. Apple's shares are trading at a price-to-EBITDA ratio of 10.9x.
Cisco Systems, Fitbit, Juniper Networks, and GoPro are trading at price-to-EBITDA ratios of 10.2x, -6.6x, 9.8x, and -4.x, respectively.
Earnings and sales
Apple reported EPS (earnings per share) of ~$8.35 in fiscal 2016, and its EPS for fiscal 2017 are expected to be ~$8.93.
The company's EPS came on total sales of ~$220.4 billion, a fall of 3% annually, in fiscal 2016. Its sales are expected to rise to ~$226.7 billion–~$253.8 billion in fiscal 2017.
Inside Apple's price metrics
With a book value per share of ~$25.7, Apple is trading at a price-to-book value of 5.6x. The stock's estimated book value per share is ~$26.3.
Apple's price-to-sales ratio is 3.4x, while its estimated price-to-sales ratio is 3.3x.