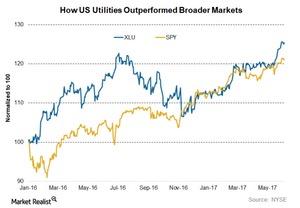 XLU in Context: What If the Fed Sticks to Its Ambitious 2017 Target?
US utilities trading strong
US utilities (XLU) continue to trade higher as they approach a second and highly probable 2017 interest rate hike. According to CME Group, the possibility of the Federal Reserve raising interest rates next week has risen over 95%—a dramatic jump from levels in early May.
Higher interest rates are generally considered negative for utilities. However, it should be noted that utility stocks have risen nearly 6% since the March 2017 rate hike, outperforming broader markets by a fair margin. Since the December 2016 rate hike, US utilities (IDU) have soared 12%, and broader markets have managed to gain 8%.
Article continues below advertisement
US utilities' shrinking yield premium
Interestingly, the epic ascent of US utilities over the past couple of years could be one of the main reasons behind their weakened dividend yield. Consequently, the dividend yield premium of US utilities as well as that of Treasuries have substantially shrunk in the past year. In June 2016, the yield premium was nearly 200 basis points from US Treasuries (TLT). However, by now, this gap has contracted to less than 100 basis points.
Even if there are high odds for an interest rate hike next week, a few FOMC (Federal Open Market Committee) members could still waver. After all, not all of the economic indicators—non-farm payrolls data, inflation, and commodity prices, to name a few—are supporting the expected hike as of now.
However, we've seen the Fed get aggressive this year, and it has expressed that it wants to accomplish the ambitious target of two more hikes in 2017. If the Fed raises the benchmark interest rate next week, it would be the fourth hike in one decade, and the rates would reach the 1%–1.25% range.