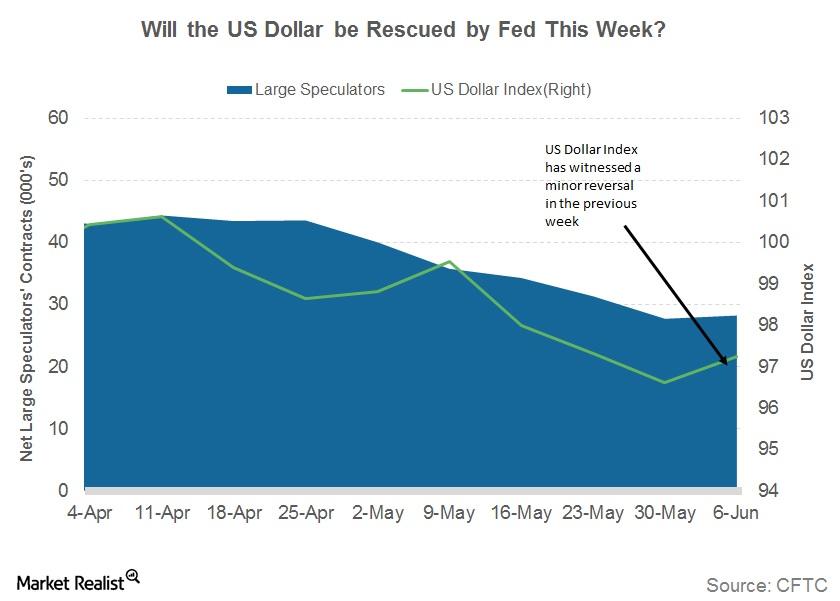 Will the US Dollar Rally before the FOMC Meeting?
US dollar managed to turn around
The US dollar (UUP) managed to turn around from its lower levels last week as risks from former FBI[1. Federal Bureau of Investigation] Director James Comey's testimony and the ECB's (European Central Bank) policy statement subsided. The US Dollar Index closed at 97.24, posting a weekly gain of 0.59% from its previous week's close of 96.67. Key gains of the US dollar were against the British pound (FXB), which was sold aggressively after the surprise election results in the United Kingdom and after the Japanese yen (FXY) lost its safe haven appeal as risk aversion receded.
Article continues below advertisement
The US Dollar Index is a measure of the value of the US dollar compared to a basket of foreign currencies. The currencies used to calculate this index are the euro (FXE), the Japanese yen, the Canadian dollar (FXC), the British pound (FXB), the Swedish krona, and the Swiss franc (FXF). The base year for this index is 1973, and the base began at 100.
Speculators turn bullish on the US dollar
According to the latest Commitment of Traders report released on June 9, 2017, large traders and speculators have increased their bullish positions on the US dollar. It's the first increase in bullish positions in the last three weeks. The total US dollar futures long position, as calculated by Reuters, totaled $8.0 billion, a rise of $0.47 billion compared to the previous week.
FOMC decision to weigh on the US dollar next week
Next week, the US economic calendar will be overpowered by the FOMC's (Federal Open Market Committee) decision. The markets are expecting a rate hike of 0.25% on June 14, 2017, which could help the US dollar gain some ground against its trading partners.
In the next part of this series, we'll see how the fixed income markets reacted to the events of the previous week.