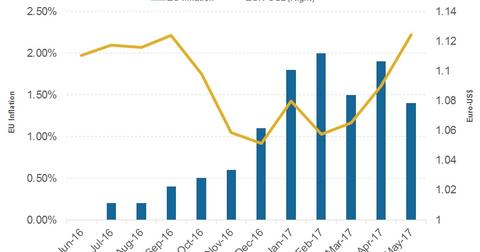 Will the European Central Bank Yield to Market Pressure?
By Ricky Cove

Updated
ECB policy meeting on June 8
The European Central Bank's (or ECB) policy meeting is another important event on Thursday, June 8, 2017, or Super Thursday. There have been recent improvements in the European Union's economy with inflation moving closer to the ECB's target rate of 2.0% and growth slowly inching higher. The ECB has come under pressure to initiate the process of reducing the monetary stimulus it has been providing to the ailing economy.
Article continues below advertisement
Political risks in Europe subsided after the recent French election, but the ECB is still facing Brexit negotiations and the German elections in September. Rising crude oil prices and a rising European currency (FXE) could also affect the ECB's policy. These uncertainties could help the ECB ward off excess pressure to tighten the monetary screws of the European economy.
Expectations for this month's ECB meeting
In this month's meeting, the ECB is likely to acknowledge improved growth in the Eurozone's economy (HEZU) and scrap the easing bias. The ECB is expected to confirm that quantitative easing will continue at 60.0 billion euros per month through the end 2017. There might not be any talks of tapering at this point, but it is widely expected that the ECB will begin this in 2018.
Possible market reactions
It would be difficult to isolate market reaction since so many events are taking place on the same day. If the ECB removes the easing bias, it would most likely impact the European and German bond markets (GGOV) the most. The euro is likely to remain volatile, since all the events on Super Thursday will impact the shared currency. Any weakness in the US dollar (UUP) after former FBI director James Comey testifies before Congress or any weakness in the pound (GBB) after the UK elections could give the euro a boost.
On Super Thursday, the ECB meeting will probably be the least eventful, but investors are still bracing for the impact.