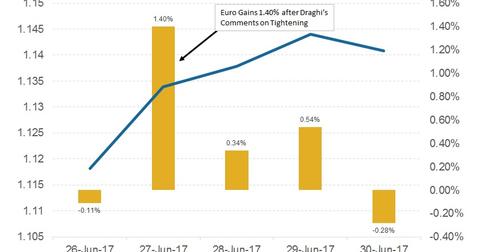 Will the Euro Continue to Rally Backed By Hawkish ECB?
By Ricky Cove

Updated
Euro aiming at 1.15
In response to the hawkish comments from ECB (European Central Bank) President Draghi, currency traders have turned extremely bullish on the euro (FXE). The shared currency had appreciated 2.3% against the US dollar (UUP) this week as of Thursday, June 29.
The euro has seen similar gains against the Japanese yen (FXY) and the British pound (FXB). In his speech on June 27, Draghi gave the strongest signal to date that a change in policy from the ECB would be on its way.
Markets were quick to react to his comments, taking the euro above the 1.14 mark against the dollar. The shared currency made a fresh one-year high of ~1.145 against the dollar on June 29, and the pair is likely headed toward the 1.15 mark.
Article continues below advertisement
Are traders ignoring the efforts of the ECB?
In a desperate attempt to cool investor expectations, the ECB said on June 28 that markets appear to have misjudged the comments from the ECB president. Markets completely ignored this warning as traders continued to bid for the euro. A positive inflation report from Germany added to this optimism and pushed the euro to a one-year high against the US dollar.
Will the euro continue to rally?
Remember, traders in currency markets are extremely myopic and do not see far beyond a few weeks or even a few days. And the comments from ECB President Draghi were not hawkish enough to warrant a 2.3% appreciation in the euro (EUFX). Draghi's comments indicated that no further rate cuts would be required, but markets seem to have read this as a signal for a coming rate hike.
It's likely that the euro could be headed toward the 1.15 level against the US dollar, but currency markets are notorious for their volatility. It's clear, to be sure, that the ECB will be moving toward tightening. But not even the baby steps have begun.