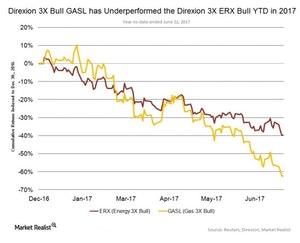 What to Expect from Natural Gas this Summer
Direxion
Cool, refreshing AC
Running the air conditioner in the hot summer is a joy. After a long run or a day at the beach, the hum of the cool air is a welcome sound. But that air is now (mainly) powered by natural gas, which is generally cleaner and cheaper than coal. Natural gas is one of the most straightforward commodities in the market. Clearly, the supply has been rising since last summer as more rigs have gone up. So, really, the demand (and thus natural gas prices) entirely depends on the weather. Cold winters and hot summers make prices go up. But so far this year, we have had a mild winter and kind of a cool spring. As a result, natural gas is off almost 25% this year! Take a look at how it has even underperformed overall energy, which we know has been bad as well.
Article continues below advertisement
So what are the returns for natural gas in the summer? Again, these numbers look pretty bleak until late summer. The returns have been -5.3%, -7.1%, and +8.8% for July, August, and September. The decision comes down to stocks near lows versus a tough seasonal trade. The good news is that stocks move really hard and fast on the weather, so keep your local weather report on while you blast that AC this summer, and use Direxion's GASL (3X Bull) or GASX (3X Bear) when the heat is on (or off).
Market Realist
Natural gas has underperformed this year
Energy at its worst this year, and natural gas isn't far behind. As of June 22, natural gas has underperformed both energy and the S&P 500 year-to-date (or YTD). As the chart above shows, the Daily Natural Gas Bull 3X ETF (GASL) has lost 62%, compared to a 40% loss by the Daily Energy 3X Bull (ERX) and a 29% gain in the S&P 500 3X Bull (SPXL)(SPX-Index) YTD.
Oil drilling produces both crude oil and natural gas. Generating electricity is one of the various uses of natural gas, and electricity demand rises in summer. As a result, summer typically pushes natural gas prices higher.
Article continues below advertisement
Another factor that drives natural gas prices is oil prices. Rising oil prices force US oil producers to add more oil rigs to take advantage of the higher prices. This change leads to an increase in natural gas rigs and a greater supply of natural gas. However, higher inventories can take a toll on natural gas prices. The recent production cut from OPEC could lead to this kind of situation.
As per June 22's Energy Information Administration (EIA ) report, natural gas inventories rose by 61 billion cubic feet (or Bcf ) on a week-over-week basis and stood at 2770 Bcf for the week ended June 16, 2017.
A rise in natural gas rigs could also increase natural gas production. According to the EIA, new well gas production per rig for June 2017 will be 3,510 thousand cubic feet per day—21% higher than June 2016. Historical data from Direxion shows the average summer return for natural gas stands at -1.2%. In any case, Direxion has you covered with GASL (Daily Natural Gas Bull 3X) and GASX (Daily Natural Gas Bear 3X) this summer.