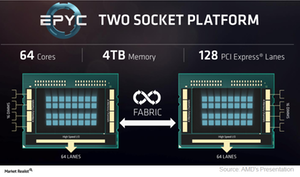 Will Naples CPU Help AMD Gain Server Market Share from Intel?
By Puja Tayal

Updated
AMD's server market share
Advanced Micro Devices' (AMD) Vega GPU (graphics processing unit) could help the company gain some market share from NVIDIA (NVDA) in the desktop GPU market. AMD is also looking to regain some share from Intel (INTC) in the server processor market with its high-end Naples server platform.
According to IDC (International Data Corporation), AMD's server market share plunged from ~25% in 2006 to just 0.4% in 2016 as Intel took over the server market. Intel currently dominates the server market with a 99.4% share.
Article continues below advertisement
If AMD's Naples server platform successfully competes with Intel in terms of both price and performance, the former could regain some market share. Even if AMD succeeds in getting a 10% market share, it would translate into $750 million to $1.5 billion in net sales for the company. The biggest question is will AMD succeed in the server market.
Impact on share price
After five years in development, AMD launched its first high-end server processor on the Naples platform under the brand name EPYC on June 20, 2017. Early reviews show that its 32-core, 64-thread EPYC 7000 series processors outperformed Intel's x86 server processors. This news resulted in AMD's stock price rising 20% and Intel's stock price falling 3% in just three days since the launch date.
AMD has so far launched four versions of EPYC and plans to launch the remaining versions by the end of July 2017.
AMD's strategy for EPYC
Intel develops server processors on one common platform and then segments it into high, mid, and low by deactivating some features. AMD's strategy for the EPYC server chip is to offer some of these features that have been deactivated by Intel in its lower-end Xeon product line.
AMD's integrated multiple CPUs (central processing unit) feature new Infinity Fabric architecture that improves yields and reduces cost. The EPYC 7000 series are priced in the range of $400 to over $4,000. AMD tested its EPYC server chips against Intel's server chips and found that its lowest range of EPYC 7251 outperformed Intel's Xeon E5-2620 by about 23%, and its highest range EPYC 7601 outperformed Intel's Xeon E5-2699A by 47%.
AMD has added a few unique features that set EPYC apart from Intel's Xeon CPUs. We'll look into these features in the next part of this series.