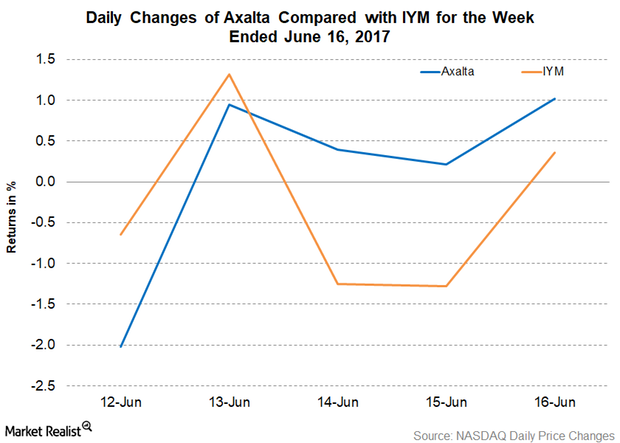 Will Axalta's New Product Launches Boost Revenue?
Axalta's new product launches
Last week, Axalta (AXTA) launched three new products catering to various industry needs. Axalta introduced Imron Elite 8831s clearcoat catering to the commercial transport market. This product is expected to have a premium appearance and have excellent chemical resistance. James Fawcett, Axalta's commercial transportation product manager, said, "Customers who manufacture or repair heavy-duty trucks, transit buses, coaches and other commercial vehicles will find value in the durability, weatherability and flexibility properties of Imron Elite 8831S. We are excited to bring this product to our customers."
Axalta also introduced a new line of lubricants called Voltalube. The lubricants are designed to improve the winding in electric motors, generators, and transformers.
Axalta also launched Durapon 70 HS-PVDF spray technology in the aluminum extrusion industry. The product can be used for windows, curtain walls, and railings. Axalta claims the company reduces application costs by 25% and helps the customer save money and time.
It remains to be seen how these products perform and how much they will boost Axalta's revenue going forward.
Article continues below advertisement
Axalta stock performance
Axalta stock closed at $33.76 on June 16, 2017, with a rise of 0.5% for the week. On the other hand, the iShares US Basic Materials (IYM), which holds 1.2% of its portfolio in Axalta, fell 1.5% for the week and underperformed AXTA. Among AXTA's peers, PPG Industries (PPG) outperformed AXTA with a return of 1.1%, and Sherwin-Williams (SHW) underperformed AXTA with a return of -0.70%. RPM International (RPM) remained flat for the week ended June 16, 2017.
AXTA's gains resulted in the stock trading 8.6% above the 100-day moving average price of $31.08, indicating the stock's upward trend. Its RSI (relative strength index) of 67 is also indicating that the stock is moving towards an overbought situation. An RSI of 70 and above suggests the stock is overbought and an RSI of below 30 indicates that the stock is oversold. AXTA's 52-week low is $24.27, while its 52-week high is $33.77.