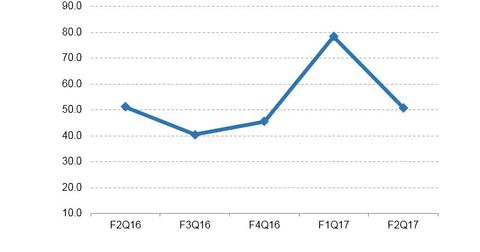 Will Apple's Next iPhone Charge Wirelessly?
By Ruchi Gupta

Updated
iPhone shipments sink
Apple (AAPL) is under pressure to spark iPhone sales. This pressure intensified following the company's fiscal 2Q17 results, which showed a fall in its iPhone unit sales compared to a year earlier. The quarter continued to highlight how competition in the premium Smartphone space has increased, including in vital emerging markets (EEM) such as China (FXI).
To bring consumer interest back to the iPhone, its most important product, Apple is expected to ship a radically redesigned iPhone this year and to continue adding impressive design features to its future handsets. One of the design changes some feel would draw more iPhone buyers is the inclusion of a wireless charging capability in the device.
Article continues below advertisement
90% of Smartphone buyers want wireless charging
Apple has lagged competitors in terms of cordless charging technology (XLK). For example, Samsung (SSNLF) has been shipping Galaxy Smartphones that charge wirelessly. Apple could be holding itself back by not bringing wireless charging to the iPhone, according to a certain study.
According to research company IHS Technology, more than 90% of consumers would buy a device with wireless charging capability in their next handset upgrade.
Apple hints that it's fired up for cordless charging
Will the next iPhone charge wirelessly? Supply chain rumors, including a TechCrunch report, have hinted that inductive charging is a possibility for the next iPhone. Apple is, as usual, mum on the matter, but its recent moves are telling. 
From filing patents related to wireless charging in the iPhone to joining an industry group that develops wireless charging standards, Apple has all but showed that inductive charging is something it's seriously considering.
While cordless charging has the potential to drive consumer interest in the iPhone, the charging feature in the next iPhone remains a mystery.