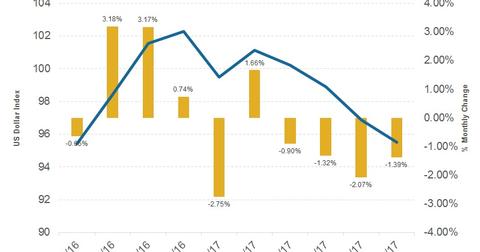 Why the US Dollar Keeps Trending Lower
By Ricky Cove

Updated
Dollar Index below 96.0
The US Dollar Index (UUP) sank below the 96.0 mark on Tuesday, marking the continued depreciation of the US dollar against major currencies like the euro (FXE), the pound (FXB), and the yen (FXY). But the hawkish US Fed statement on June 14, which signaled further rate hikes in the US and a possible unwinding of the Fed's balance sheet, failed to turn the fortunes for the US dollar (USDU).
The US Dollar index fell 1.5% this week (ended June 30), as investors questioned the Fed's outlook on the back of weak economic data from the US.
Article continues below advertisement
The euro and the pound rally against the dollar
Until recently, the US Fed has been the only central bank to march ahead and increase interest rates, but with the ECB (European Central Bank) and the BOE (Bank of England) turning hawkish, investors are looking for other avenues to park their funds.
Rising US interest rates would usually attract yield-seeking investors to US treasuries (GOVT), thereby increasing the demand for the US dollar. But the recent weak economic data from the US cast doubts on whether the Fed would increase rates again this year. This view has led to a sharp depreciation of the US dollar, with the Dollar Index closing lower in five of the last six months.
Will this trend continue?
The weakness in the US dollar is likely to continue after recent economic data failed to show any positive surprises. GDP for the first quarter was revised higher to 1.4% from 1.2%, and core PCE was revised lower to 2.0% from 2.1%. Mixed signals from the FOMC (Federal Open Market Committee) members also added to downward pressure on the dollar.
The Fed is not now expected to increase the interest rate until December, and the odds of that now stand at 50%. With the euro and pound remaining bullish, it's likely that the US dollar will be subjected to further downward pressure in the near term.