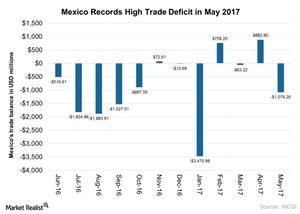 Why Mexico Registered a Large Trade Deficit in May 2017
By Mary Sadler

Updated
Mexican trade
Mexico (EWW) posted a large trade deficit of $1.1 billion in May 2017 compared to $882.9 million the previous month. It also remained far from its the market expectations of a $1.0 billion surplus for May 2017, as imports surged more than exports that month.
The uncertainty related to NAFTA (North American Free Trade Agreement), although abating, still poses a significant threat to Mexico's (UMX) export-oriented economy. The United States' efforts to reduce the alleged unfair trade practices are expected to impact Mexican (EEM) exports.
In the graph below, you can see Mexico's trade balance over the past year.
Article continues below advertisement
Trade deficit in May 2017
May 2017 saw the largest trade deficit in Mexico (HEWW) since 2015. Imports increased at a faster pace of 14.7% compared to 12.9% in the same period the previous year. Month-over-month, imports rose 18.0% compared to 12.0% in May 2017.
Trade in May 2017
Exports from Mexico increased in May 2017 mainly due to a rise in non-oil sales by 13.8%, while oil sales fell 3.5%. Manufacturing exports rose 12.9%, led by sales of food equipment and electronic apparatuses, special machinery for industries, automotive products, and professional and scientific equipment. Imports got a boost from intermediate goods, consumption goods, and capital goods.
Recent developments for NAFTA
NAFTA is an important free trade agreement for Mexico since 80.0% of its exports depend on the United States (SPY), one of the participants.
Recently, the two nations reached a deal regarding Mexican sugar shipped to the United States, reducing the uncertainty surrounding its trade relations. The agreement has lowered the percentage of Mexican exports of refined sugar from 53.0% to 30.0%. The positives from this negotiation include the continuance of trade between the two nations. However, reduced trade could impact both nations going forward. The sugar agreement is considered the first step before the bigger talks on NAFTA that are set to begin in August 2017.
Let's look next at the performance of the Mexican peso.