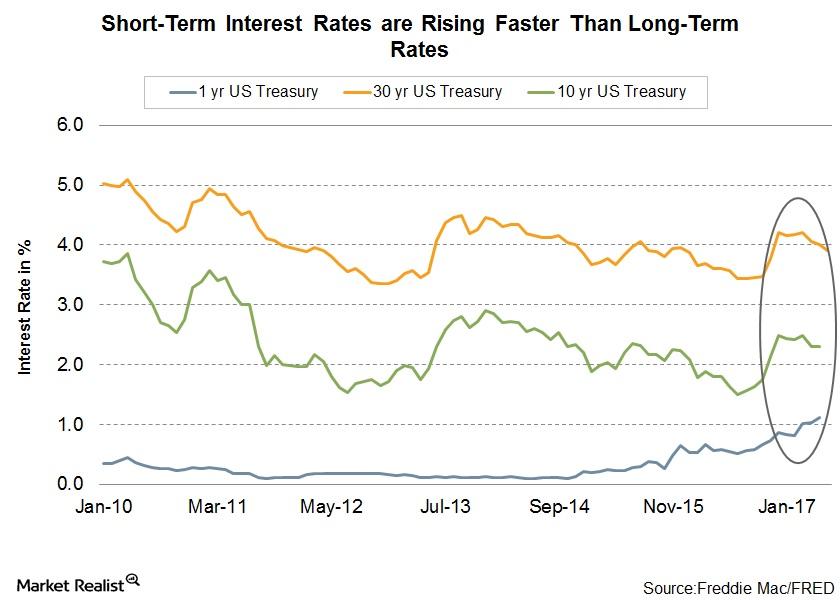 Why Is the US Treasury Yield Curve Flattening?
By Ricky Cove

Jun. 22 2017, Updated 7:38 a.m. ET
What is a yield curve?
Bond markets (BND) have been buzzing in the last few weeks about the flattening US Treasury yield curve. In this series, we'll explore what this means and how it's becoming a concern for global markets (VTI).
First, let's define a yield curve. According to Investopedia, "A yield curve is a line that plots the interest rates, at a set point in time, of bonds having equal credit quality but differing maturity dates." 
In many cases, investors and traders refer to the US Treasury yield curve that contains the interest rates of three-month (SHY), two-year (IEF), ten-year, and 30-year US Treasuries (TLT).
The shape of the yield curve is usually upward sloping, referred to as a normal yield curve. Longer-term bond investors require a higher rate of return on their investments.
Article continues below advertisement
What factors impact the shape of a yield curve?
Multiple factors impact the shape of a yield curve. Bonds with different times to maturity do not act similarly with respect to all these factors. Short-term bonds, which denote the left side of the curve, react to short-term interest rate policies from the US Federal Reserve.
The longer-term bonds, which are at the right side of the yield curve, react to the Fed's outlook and also reflect investor expectations of inflation, economic growth, and risk appetite.
Why is the yield curve flattening now?
The Federal Reserve has been aggressively increasing interest rates. The most recent hike of 0.25% was announced on June 14, 2017. There have been five interest rate hikes in this cycle, with two rate hikes in 2016 and three scheduled rate hikes in 2017.
Generally speaking, yields and bond prices are inversely correlated. As a result, lower growth projections, tepid inflation, and risk aversion all contribute to increasing long-term bond prices while making yields fall. 
In the current market environment, conditions reflect the same outlook where short-term rates are rising, so short-term bond prices are falling. Also, short-term yields are rising faster than long-term yields, causing the yield curve to flatten.
In the next part of this series, we'll explain why the Federal Reserve is partly responsible for this flattening yield curve.