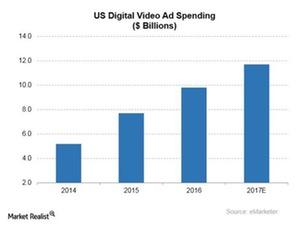 Why Google's YouTube TV Doesn't Include Time Warner's Turner
Time Warner's Turner's excluded from YouTube TV
In the previous part of this series, we saw how Time Warner's (TWX) Turner business expects to be affected by the inclusion of its networks in online television services. However, Turner hasn't been included in Alphabet's (GOOG) YouTube TV, which was launched earlier this year.
Time Warner was asked at the MoffettNathanson Media & Communications Summit last month what the possible reason could be behind Turner's exclusion from YouTube TV. Time Warner said it believes that online television services such as YouTube TV follow a business model of offering fewer networks that are popular among its viewers and of high quality in terms of content at a lower price.
Article continues below advertisement
However, when it comes to negotiating with media companies for programming, media companies are insistent on licensing a group of networks instead of licensing a particular popular network. Time Warner's Turner has all ten of its network brands in the top 50 networks in the United States (SPY). YouTube TV could have thus found it difficult to include Turner's networks in its YouTube TV without increasing its price.
YouTube TV is currently priced at $35 per month and offers 40 channels. However, YouTube TV hasn't ruled out adding more networks to its streaming service in the future.
About YouTube TV
It's interesting to note that YouTube TV has a feature that makes it impossible for viewers to skip ads, even if they're recording shows to watch later. One reason media companies have been reluctant to license their content to streaming services is the risk of losing revenues due to content piracy. However, YouTube TV's feature of not allowing viewers to skip ads mitigates the risk of revenue losses due to content piracy for media companies. It also rakes in advertising revenues for Alphabet (GOOG).