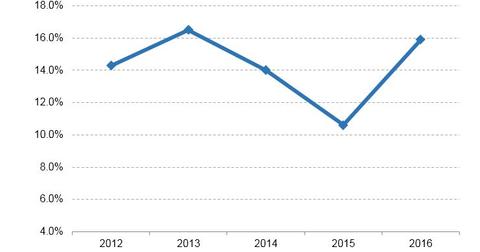 Why eBay's UK Sellers Pay a 20% Tax
By Neha Gupta

Updated
Paying fees to British operation
eBay (EBAY) is realigning its legal structure to adjust to changes following the spinoff of PayPal (PYPL) in 2015. The realignment started in 2016 and is expected to end this year. When finished, the legal structure overhaul would leave eBay sellers in the UK with a tax bill: a 20% value-added tax (or VAT) for sales above a certain threshold.
The company has notified its UK sellers of the impending VAT. The tax stems from eBay shifting from asking its UK sellers to pay fees to its Luxembourg subsidiary and instead start paying the tax to its British operations.
Article continues below advertisement
Tax applies to sales above 85,000 pounds
The additional 20% tax burden would not apply to individual sellers or small vendors with turnovers below 85,000 pounds. eBay vendors already registered for the VAT would not see the additional costs, the Financial Times reported.
Of the ~$9.0 billion revenues eBay generated in 2016, about $1.3 billion came from the UK, the newspaper stated. That makes the UK one of eBay's largest overseas markets. The UK's retail e-commerce growth accelerated to 15.9% in 2016 from 10.6% in 2015, as shown in the chart above.
Crackdown on tax evasion
eBay's legal structure overhaul that would subject UK sellers to additional costs comes at a time when the UK government has stepped up efforts to battle tax avoidance by foreign e-commerce firms operating in the country.
The European Commission has long questioned the tax practices of American multinationals such as Apple (AAPL), Amazon (AMZN), and McDonald's (MCD).