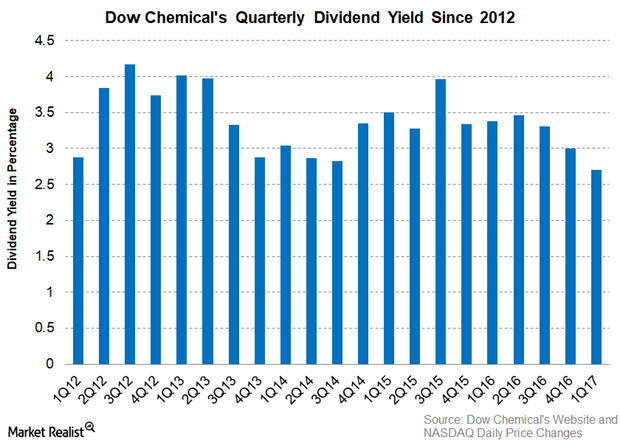 Why Dow Chemical's Dividend Yield Is in a Declining Trend
Dow Chemical's dividend yield
A dividend yield reflects the returns an investor will get for every dollar invested in a company's equity. Long-term investors usually look for stocks that have high dividend yields.
As of June 13, 2017, Dow Chemical's current dividend yield was 2.8%. In comparison, peers DuPont (DD), LyondellBasell Industries (LYB), and Eastman Chemical (EMN) have current dividend yields of 1.8%, 4.3%, and 2.5%, respectively. Although DOW's dividend yield is better than DuPont's and Eastman Chemical's, the dividend is showing declining signs, primarily due to a rise in DOW stock. So far in 2017, DOW has risen 14.9%, and analysts are still bullish with a 12-month target price of $71.83. If the upsurge in DOW stock continues, its dividend yield could fall further. However, DOW's dividend is still better than the yield on one-year Treasury bonds.
Article continues below advertisement
Dividend payout
Dividend payouts are calculated by dividing the annual dividend per share by the annual EPS (earnings per share), usually expressed in percentage. It tells an investor what percentage of earnings the company is paying out as a dividend.
Since 2012, DOW's dividend payout has been fluctuating in the range of 28.0%–172.0%, primarily due to variations in its EPS. For 1Q17, the dividend payout was 63.9%. For analysts, predicting a higher EPS than 2016 could mean that DOW's payout ratio could come down.
You can indirectly hold Dow Chemical by investing in the iShares US Basic Materials (IYM). IYM invests 11.8% of its portfolio in Dow Chemical as of June 13, 2017.
In the next part, we'll look at analysts' recommendations for Dow Chemical.