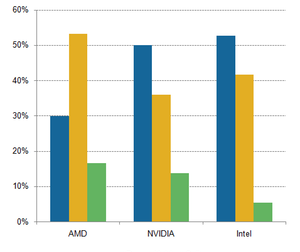 Why Are Some Analysts Bearish on AMD?
By Puja Tayal

Updated
Some analysts are bearish on AMD
Advanced Micro Devices' (AMD) strong stock price gain, product launches, and rising competition have made some analysts bullish and some bearish on the stock. The Wall Street analysts have given a "hold" recommendation for AMD and a "buy" recommendation for NVIDIA (NVDA) and Intel (INTC).
Article continues below advertisement
Morgan Stanley 
Morgan Stanley's analyst Joseph Moore is concerned about whether AMD's EPYC processor will be able to compete with Intel's upcoming Purley platform. He acknowledged that AMD has done a good job in developing an entire ecosystem around its server processor with several partnerships and customers.
However, AMD has been out of the server market for a long time, and it will likely take some time to rebuild credibility. Joseph Moore stated that EPYC has impressive benchmark scores but it remains to be seen if the CPU (central processing unit) can handle real workloads. He also stated that AMD's multichip module may not work for applications that require higher memory and low latency. All these factors make Joseph Moore bearish on AMD.
Summit Redstone 
Summit Redstone's analyst Kinngai Chan reiterated Joseph Moore's comments. He believes that AMD's EPYC would be able to gain some market share but Intel's Purley processor would take away orders from CSPs (cloud service providers) due to its superior performance and proven platform ecosystem.
He added that AMD's high-end Ryzen 7 desktop CPU is already struggling to compete with Intel's Kaby Lake CPU, which has higher clock speed. He believes that AMD's new products would continue to lag behind Intel's and NVIDIA's products in terms of performance.
Article continues below advertisement
While AMD's price-to-performance strategy may help it earn better-than-expected revenue in 2017, its profit margins would continue to remain weak. In terms of stock price, Kinngai Chan stated that AMD's stock has already priced in "most of the near-term positives." Thus, Chan believes the stock price is unlikely to rise in the near term.
Goldman Sachs 
Goldman Sachs's analyst Toshiya Hari is not bearish on AMD but he reiterated a "sell" rating on the stock, as he believes that at $14, the stock has already priced in the most bullish scenario, leaving little room for upside. He has set a price target of $10.6 for AMD.
Toshiya Hari stated that AMD's stock price is 15 times the 2019 earnings estimate. The 2019 earnings estimate assumes that AMD's unit share in the server market rises to 15%, up from the present market share of 0.4%. Thus, the current stock price has already included "sharp improvement in AMD's competitive and financial position," stated Toshiya Hari.
However, the bullish analysts believe that the bearish analysts are underestimating AMD's potential gains against Intel. We'll look at the bullish analysts' comments in the next part.