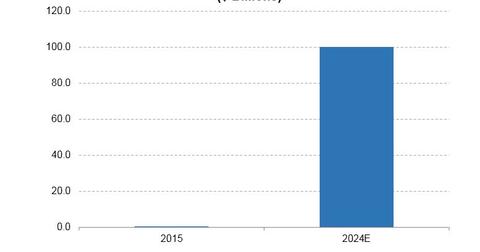 Why Apple Is Well-Positioned to Ride the AR Wave
By Ruchi Gupta

Updated
AR as a transformative technology
Apple's (AAPL) CEO, Tim Cook, has talked about AR (augmented reality) enough to indicate that Apple sees AR technology as vital to its future—a future that has recently been complicated by weak iPhone sales.
In a world where smartphone penetration is already reaching peak levels in developed markets and where competition for emerging markets (EEM) has turned brutal, Apple's continued reliance on the iPhone has been a cause of serious concern for investors.
However, Cook's favorable talk about AR seems to provide hope. Cook believes that AR has the potential to transform the world as the smartphone has done.
Article continues below advertisement
More than $100 billion on the table
Experts have pointed out that the AR market could develop more quickly than the VR (virtual reality) market. This trend could be partly due to AR's integration into existing platforms. 
VR is more complicated, however, as it requires sophisticated gear and optimized computers to stream the content. As a result, Facebook (FB) and Sony (SNE) have priced most of their VR gear out of reach of most consumers.
According to a Grand View Research report, the worldwide AR market could grow to more than $100.0 billion by 2024 from less than $1.0 billion in 2015.
iOS developer base is vital to Apple's AR push
The prospect of AR is drawing a variety of players to the game, including Alphabet's (GOOGL) Google. However, experts such as Gene Munster of Loup Ventures have argued that Apple is better placed to lead the AR race. 
One of Apple's advantages is the iOS developer base. These developers have experienced success by building iOS apps, and they could be excited to create content for Apple's AR platform.
The slow takeoff of VR has partly been blamed on the shortage of content, implying that content is central to the success of these reality technologies. In that case, iOS developers could give Apple a head start in its AR push.