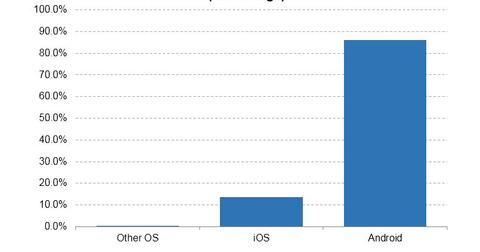 Why Apple Hired Jonathan Zdziarski
By Ruchi Gupta

Updated
Privacy evangelist
In a Fortune report earlier this month, it emerged that Apple (AAPL) had hired Jonathan Zdziarski, a renowned independent security expert who's made significant contributions toward securing the iOS.
Zdziarski has also been a vocal supporter of data privacy, saying in a recent blog post that "privacy is sacred." Back in 2014, he helped discover an iPhone vulnerability that hackers could have exploited if it hadn't been identified and fixed.
Article continues below advertisement
Security is central to Apple's business. It's why the company keeps updating its iOS, the mobile operating system that runs the iPhone and iPad. By tapping people such as Zdziarski, who not only are experts in cybersecurity but are also enthusiastic about it, Apple can tout the security credentials of its devices for a competitive edge.
Finding a differentiator in a commoditized market
Doubling down in terms of security makes perfect sense for Apple right now. Windows and Android devices from the likes of Microsoft (MSFT), Samsung (SSNLF), Alphabet's (GOOGL) Google, and China's (FXI) Huawei and Xiaomi have caught up with Apple in many areas, making it difficult for the company to register huge iPhone sales growth as it did in the past.
In a world where businesses and consumers are increasingly concerned about their data security and privacy, touting the security credentials of a product or service could make a huge difference in a competitive market.
WannaCry as a wakeup call
Furthermore, security will be paramount for Apple as it diversifies into the connected health market with devices such as the Apple Watch, which can monitor a user's heart rate and sleep quality. 
Considering the WannaCry ransomware assault we saw earlier this month, security is set to be a priority consideration for enterprises and consumers buying connected devices.