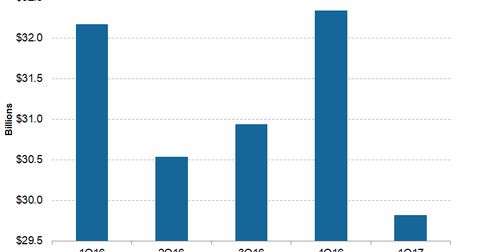 Why a Charter-Comcast Alliance Could Worry Verizon
By Ambrish Shah

Jul. 3 2017, Updated 8:09 a.m. ET
Closing a deal could be difficult
The collaboration between Charter Communications (CHTR) and Comcast (CMCSA), announced last month, to work together on wireless could worry Verizon (VZ). But Verizon's fears won't be from the fact that Charter and Comcast will use its infrastructure to broadcast challenging wireless services. Its fear will be that its merger and acquisition options will decrease.
Speculations have been going around that Verizon will seek to tie up with Comcast or Charter as a counter move to AT&T's (T) proposed acquisition of Time Warner (TWX).
Article continues below advertisement
Playing nice?
But the Comcast-Charter alliance reduces the probability of Verizon merging with one of the two media companies. Verizon's finances and business structure would be under immense pressure if Verizon wins the confidence of either Charter or Comcast for a merger deal.
Charter and Comcast agreed that neither company would enter into any material transaction without approval from the other company for at least a year. That agreement could make it difficult for Charter, for example, to close a deal that could increase competition for Comcast, and vice versa.
Apart from Charter and Comcast, Verizon still has Dish Network (DISH) as a potential media partner. The challenge is that if Verizon comes under pressure to counter AT&T's media moves, it could end up paying a premium price for Dish or any other media assets it intends to acquire.
Verizon's revenue in 1Q17
During 1Q17, Verizon's total revenue fell ~7.3% year-over-year to $29.8 billion, compared to $32.2 billion in 1Q16. This fall in total revenue was mainly due to a decline in wireless service revenue. As a result, in order to drive future growth, Verizon is seeking to diversify its business.