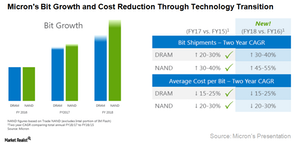 Where Is Micron Focusing Its DRAM Capital Spending?
By Puja Tayal

Jul. 3 2017, Updated 7:36 a.m. ET
Technology transition is driving growth in DRAM supply
In the previous part of this series, we saw that Micron Technology (MU) expects the DRAM (dynamic random access memory) industry supply to grow at an average annual rate of 15.0%–20.0% through 2020, with a major portion of growth coming from technology transitions. Micron's chief financial officer Ernest Maddock expects supply to grow at the low end of this range since every advanced node yields fewer incremental bits.
Article continues below advertisement
How technology transition limits supply
At the Nasdaq 36th Investor Program Conference, Maddock explained how advanced technology doesn't yield more wafers. A DRAM facility may process 100 wafers on a 20 nm (nanometer) node. When the facility transitions to an 18 nm node, the die size shrinks, and bits per wafer may increase 25.0%–30.0%.
As the die size shrinks and bits increase, the equipment has to deposit more layers on the die and etch finely textured geometries. That increases the time spent in the etching process. So the same equipment processes fewer wafers; instead of 100 wafers, an advanced node may etch 95 wafers. However, bits per wafer increase.
Although the overall bit is increasing with every node shrink, the incremental number of bits produced is declining because fewer wafers are being etched. A company can process 100 wafers by adding more equipment.
Where is Micron targeting its DRAM capital spending?
As memory matures, it becomes less capital-intensive, which means the amount of capital spent is less compared to the returns. Although Micron earns more than 60.0% of its revenue from DRAM, it's spending 40.0%–50.0% of its capital expenditures on DRAM.
Over the next two to three years, Micron plans to spend $2.0 billion to convert its Japanese (EWJ) plant into a DRAM center of excellence. It plans to develop next-generation memory chips for smartphones, data centers, and self-driving cars. It will focus on developing higher-end DRAM products that are ideal for AI (artificial intelligence) applications since its key customers, Nvidia (NVDA) and Intel (INTC), are focusing their products on AI. On the other hand, Samsung (SSNLF) is spending $8.7 billion on a new DRAM plant in South Korea.
Next, we'll look at the NAND market.