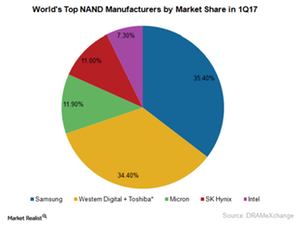 What's Micron's View on Toshiba's NAND Business Acquisition?
By Puja Tayal

Nov. 20 2020, Updated 1:27 p.m. ET
What does Toshiba's NAND business acquisition mean to the industry?
In the previous part of this series, we saw that the NAND market is increasing its 3D NAND capacity in anticipation of strong demand growth in 2017 and 2018. Increasing demand and limited supply have increased NAND prices. However, the second-largest NAND supplier, Toshiba (TOSBF), recently put its NAND business up for sale to avoid bankruptcy.
Among the shortlisted bidders are Toshiba's NAND JV (joint venture) partner Western Digital (WDC); the SK Hynix–Bain Capital consortium; the Broadcom (AVGO)–Silver Lake consortium; KKR & Co.; and the Development Bank of Japan–Innovation Network Corporation of Japan consortium.
Article continues below advertisement
Several analysts have published reports stating the positive and negative outcomes of the deal depending on who acquires the business. At the Robert W Baird Global Consumer, Technology & Services Conference, Micron's (MU) chief financial officer Ernest Maddock expressed his views on the impact of the Toshiba deal on the overall NAND market.
He said that Western Digital might already have a capital expenditure budget in place for the NAND JV. If WDC acquires Toshiba's NAND business, there would be no major significant change in its capital spending. The same would be the case if the SK Hynix consortium acquires Toshiba's NAND business since these companies are in the memory business and understand the importance of supply discipline.
Could the Toshiba deal disrupt the supply-demand equilibrium?
Maddock believes the bigger threat would come if a potential acquirer significantly changes the trajectory of that capital investment. If the ultimate acquirer doubles or triples the capital expenditures of the Toshiba-WDC JV, it would change the industry supply-demand dynamics and impact the profits of the overall NAND industry.
However, no disruptive change would happen in the short term since building a new capacity requires at least two years and $5.0 billion–$10.0 billion in capital. For the plant to be economically feasible, it should generate returns for at least 15 years since returns for the first four to five years would only go toward recovering the investment cost.
On the flip side, if Toshiba's NAND business is acquired by someone with extreme financial discipline, it might cut the JV's capital spending, which would reduce the industry's supply, said Maddock.
Maddock said that all the scenarios assume that Micron doesn't have any specific details about WDC's or Toshiba's capital budgets. It's hard to predict the specific behavior of any potential acquirer since capital decisions change according to the internal and external environments.
While the DRAM (dynamic random access memory) and NAND markets present separate opportunities, automotive presents opportunities for hybrid memory, and Micron is at the forefront of that opportunity. Let's look at that opportunity in the next part.