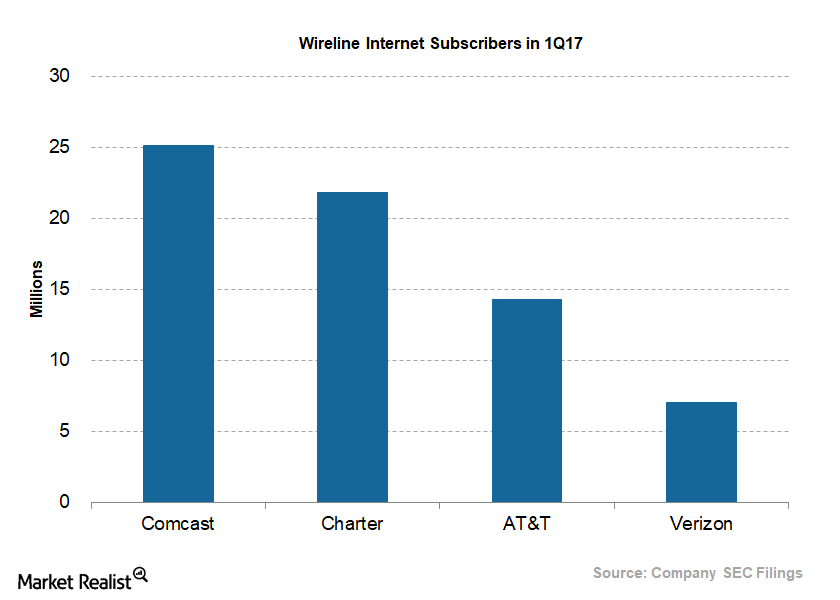 What's Happening with Charter in the Broadband Space?
Charter's broadband customer acquisitions in 1Q17
The cable industry's market share of US broadband subscribers continued to rise in 1Q17. Comcast (CMCSA) and Charter Communications (CHTR) managed to add the most broadband subscribers in 1Q17, given their faster speeds.
Now let's look at the robust performance of Charter's Internet component, a key growth driver for the company. In 1Q17, the company added 428,000 net broadband subscribers. Its Internet customers rose ~6.7% YoY (year-over-year) to reach ~21.8 million, making it the second-largest US cable player after Comcast.
Article continues below advertisement
According to DSLReports, Charter, like Comcast, has benefited from telecommunication companies such as AT&T (T), Verizon (VZ), CenturyLink (CTL), Windstream (WIN), and Frontier (FTR) not doing any real scale upgrade to their networks. As a result, consumers are opting for cable broadband operators with next-generation broadband speeds.
US Internet market
At the end of 1Q17, Comcast's Internet subscriber base was the largest in the United States with ~25.1 million broadband subscribers. After Charter, the third-largest Internet customer base belonged to AT&T with ~14.3 million broadband subscribers. Verizon has the fourth-largest Internet subscriber base in the United States with ~7.0 million broadband subscribers.