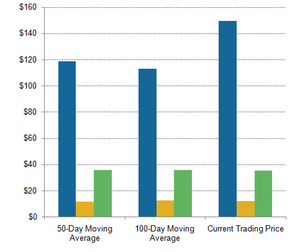 What Technical Indicators Say about NVIDIA's Stock Price Momentum
By Puja Tayal

Updated
NVIDIA stock trading ahead of its time
Previously in this series, we saw that NVIDIA (NVDA) stock is one of the best-performing technology stocks, with an increase exceeding 200% in 12 months. Despite such high growth, analysts are optimistic about the stock and have raised their 12-month average price target for NVIDIA to $185.
NVIDIA's price ratios do not show that the stock is fundamentally overvalued. In our view, the stock seems to be trading ahead of its time, which means it has priced in future earnings.
In the event the company fails to deliver the desired earnings, its stock price could fall. Let's look at its technical indicators and see which direction investor sentiment could be skewed.
Article continues below advertisement
50-day and 100-day moving averages
After falling as low as $95.50 in April 2017, NVIDIA's stock price rose to $150 in June 2017, an increase of 57%. Such high growth in its stock price saw its 50-day moving average rise from $103 in May 2017 to $119 in June 2017. Its 100-day moving average rose from $105 to $113.
On the other hand, Advanced Micro Devices' (AMD) and Intel's (INTC) 50-day and 100-day moving averages were unchanged during the same period.
NVIDIA stock is currently trading near $150, which is higher than its revised 50-day and 100-day moving averages. On the other hand, AMD's and Intel's stocks are trading near their 50-day and 100-day moving averages.
RSI
The RSI (relative strength index) is a technical indicator that measures the intensity of investor sentiment. The RSI is measured on a scale of 0–100, with an RSI lower than 30 indicating that the stock is oversold and an RSI greater than 70 indicating that the stock is overbought.
On June 12, 2017, NVIDIA's 14-day RSI stood at 66. Over the past one-month period, its stock price has increased 11%, which saw its RSI increase from 65 to 66. NVIDIA's RSI is greater than AMD's and Intel's RSI readings of 62 and 56, respectively.
This shows that NVIDIA stock is close to being overbought. When a stock is overbought, its stock price could correct as investors may question whether the high growth is sustainable.
However, NVIDIA has been successfully reporting better-than-expected earnings, boosting its stock price after the earnings release. So, any stock price correction could provide an opportunity to buy at a lower price.
Technical analysis indicates that the strong growth momentum could be the new normal for NVIDIA's stock.