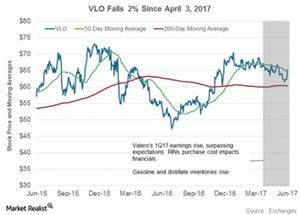 What Happened in the Energy Sector Last Week?
How Valero Stock Has Performed in 2Q17
In 2Q17, Valero's (VLO) refining margin indicators in the US Mid-Continent, US West Coast, and North Atlantic rose quarter-over-quarter. However, they fell in the US Gulf Coast.
Valero's 1Q17 earnings rose 13% YoY (year-over-year). But the results were impacted by a huge RIN (renewable identification number) cost of $146 million. VLO expects its RIN cost to be around $750 million in 2017, almost the same level as in 2016.
Article continues below advertisement
Halliburton's Strategies Could Improve Its Returns in 2017
Halliburton's (HAL) management highlighted the following strategies to boost returns in 2017:
Halliburton will continue to reactivate rigs and other equipment in 2Q17.
The company plans to add reactivated equipment at the best possible prices to stabilize its market share.
Halliburton will improve its North American margin despite higher input costs, reactivation costs, and a seasonal decline in the Gulf of Mexico.
Key Trends in Anadarko Petroleum's Net Debt
Anadarko Petroleum's (APC) net debt rose sharply between 3Q15 and 1Q16 as its EBITDA fell, resulting in a significant rise in its net-debt-to-adjusted-EBITDA multiple. However, since 2Q16, Anadarko's adjusted EBITDA have risen and its debt levels have fallen, explaining the decline in its net-debt-to-adjusted-EBITDA multiple since 2Q16.
Article continues below advertisement
How the Market Reacted to DOJ Approval of GE-BHI Merger
On June 12, 2017, the Baker-Hughes-GE merger moved a step closer to reality. Baker Hughes (BHI) and GE (GE) reached an agreement with the US Department of Justice (or DOJ) that will allow the transaction to be completed provided the companies meet all conditions. The DOJ approval followed the European Commission's (or EC) consent on May 31.
Analyzing Stone Energy's Year-to-Date Stock Performance
Article continues below advertisement
How Encana Is Performing in Fiscal 2017
How Is Shell Stock Performing in 2Q17 So Far?
Royal Dutch Shell (RDS.A) stock has risen 3.4% since April 3, 2017. Comparatively, its peers ExxonMobil (XOM), Chevron (CVX), and BP (BP) rose 1.2%, 0.7%, and 4.4%, respectively, in the same period. Among the broader market indicators, the SPDR Dow Jones Industrial Average ETF (DIA) and the SPDR S&P 500 ETF (SPY) have risen 3.7% and 3.4%, respectively, since April 3.
Oasis Petroleum's Acreage Position in the Williston Basin
According to its investor presentation released on May 17, 2017, Oasis Petroleum (OAS) holds a premier acreage position in the Williston Basin. The Williston Basin is considered one of the most prolific plays in the United States. The Bakken is one of its other major formations. Continental Resources (CLR) and Whiting Petroleum (WLL) are other key operators in the Bakken, and Triangle Petroleum (TPLM) is another player in the Williston Basin.