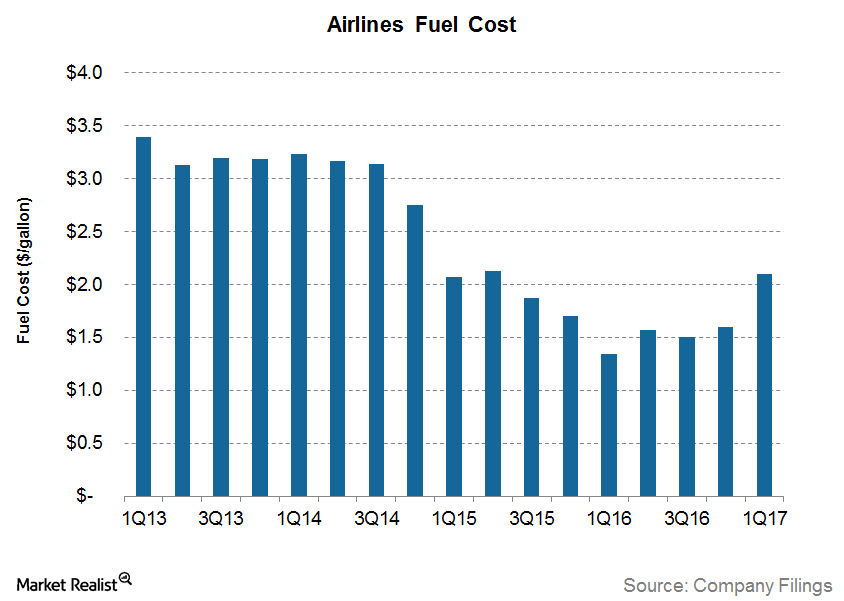 What Falling Gas Prices Mean for the Hotel Industry
By Ally Schmidt

Jul. 4 2017, Updated 9:07 a.m. ET
Oil prices fall
After rising steadily from August 2016 to December 2016, crude oil prices have been falling in 2017. 
Oil prices rose 8.7% month-over-month in December 2016 to $53.72 on the news of OPEC's (Organization of the Petroleum Exporting Countries) cutting production.
However, as data continued to show oversupply in the crude oil market, prices started to fall. Prices fell 1.7% in January 2017 to $52.81, and they rose 2.4% in February to $54.01. They fell again by 6.3% in March to $50.6, by 2.5% in April to $49.3, and by 2% in May to $48.3. Oil is currently trading at $45.23, a 6.4% sequential fall.
The latest oil price fall in June was due to new US government data that showed a rise in US crude production. According to the data, US crude output rose to 9.4 million barrels per day in the month, a rise of 20,000 barrels (or 8%) YoY.
Article continues below advertisement
What to expect?
Crude oversupply isn't expected to go away anytime soon. Oil prices are expected to stay low for quite some time. They may, in fact, fall further if the supply problem worsens. In such a scenario, airlines could continue to operate at low airfares and still remain profitable.
What does this mean for the hotel industry?
This is good news for the travel and tourism industry. Lower airfares mean that more people will be encouraged to travel. Travel demand is expected to rise given rising disposable income. Rising travel also means that people will likely require more places to stay. Both of these factors bode well for the hotel industry.
You can gain exposure to the US consumer discretionary sector by investing in the iShares Russell 1000 Growth ETF (IWF), which invests ~20.7% in the sector and 0.36% in the hotel industry. Its holdings include 0.08% in Wyndham Worldwide (WYN), 0.19% in Marriott International (MAR), 0.08% in Hilton Worldwide Holdings (HLT), and 0.01% in Hyatt Hotels (H).
Next, let's look at the industry's overall performance in 2017.