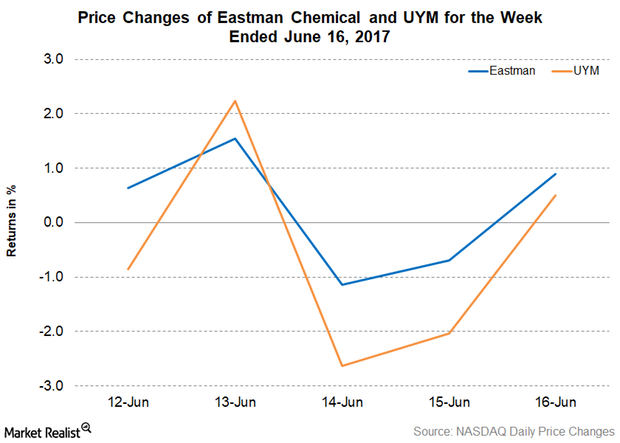 What Does Eastman Chemical's New Deal with Decathlon India Entail?
Eastman Chemical's new business deal
On June 15, 2017, Eastman Chemical (EMN) announced that Decathlon India had selected EMN's Tritan for the newly launched Quechua passion sports bottles. Tritan is BPA-free, odor-resistant, and scratch-resistant. Starting in June 2017, Decathlon will manufacture the bottles locally and sell them through its 48 retail outlets across India. The companies didn't disclose the financial details of this deal.
David Bochot, the product engineer of Decathlon, said, "The partnership to serve the Indian market with more durable and sturdy Tritan bottles is a win-win situation for both Decathlon and Eastman."
Article continues below advertisement
A look at Eastman Chemical's stock performance last week
Eastman Chemical had a strong performance for the week ended June 16, 2017. EMN rose 1.2% for the week to close at $83.05. In contrast, the ProShares Ultra Basic Materials ETF (UYM), which holds 1.3% of its portfolio in EMN, fell 2.2% and underperformed EMN. With this gain, EMN traded 5.2% above its 100-day moving average price of $78.92, indicating a strong upward trend prevailing in the stock. However, the relative strength index of 64 suggests that the stock is not overbought. A score of 70 and above indicates that the stock is overbought, while a score below 30 indicates that the stock is oversold.
On a year-to-date basis, EMN has risen 11.8%. Analysts expect EMN's 12-month target price to be at $88.47, implying a potential return of 6.5% from the closing price of $83.05 as of June 16, 2017.
UYM's top holdings include Dow Chemical (DOW), DuPont (DD), and Monsanto (MON), which have weights of 7.9%, 7.8%, and 5.6%, respectively, as of June 16, 2017.