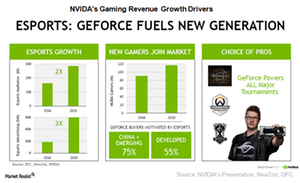 What Could Drive NVIDIA's GeForce Unit Sales
By Puja Tayal

Dec. 4 2020, Updated 10:52 a.m. ET
Growth opportunities in the gaming market
NVIDIA's (NVDA) GeForce business unit has a history of strong growth. The company expects the growth to continue in coming years as the gaming market evolves with the increasing popularity of eSports, AAA games, gaming notebooks, and VR (virtual reality).
At NVIDIA's 2017 Investor Day, GeForce senior vice president Jeffrey Fisher, citing research data from DFC Intelligence, stated that the worldwide gaming market is expected to reach $100 billion by 2020. The PC (personal computer) gaming market is expected to grow at a CAGR (compound annual growth rate) of 6%.
Article continues below advertisement
eSports to drive GeForce unit sales 
The growing popularity of eSports is creating an opportunity for NVIDIA at two levels: competitive gaming and social gaming. Jeffrey Fisher expects eSports viewership to increase twofold between 2016 and 2020, driving demand for more basic GPUs (graphics processing units).
Due to their growing popularity, eSports are evolving into professional games. eSports competitions are happening at the university level. The Asian Games announced that it will add eSports as medal sports in 2022. In a matter of time, eSports may become international Olympic sports. As they become professional, they will require professional-grade GPUs, and NVIDIA is the preferred choice of eSports professionals.
eSports are attracting new gamers to the market. Approximately 75% of new GeForce buyers in emerging markets and China (FXI) and 55% of new GeForce buyers in developed markets were motivated by eSports.
Gaming notebook to drive GeForce Unit Sales
The gaming notebook segment is growing at the fastest pace in the gaming market. Back in 2010 and 2012, gaming notebooks were heavy and not portable, as they were close replacements of desktop variants. With its Maxwell architecture in 2014, NVIDIA revised its strategy and shifted from a focus on performance to power per watt, making gaming notebooks portable. Since then, NVIDIA's gaming notebook business has grown tenfold. Recently, NVIDIA launched Max-Q technology, which brings Pascal-based GeForce GPUs to notebooks.
Gaming laptop makers Maingear, Origin PC, Scan, and Hewlett-Packard (HPQ) plan to release gaming notebooks powered by MAX-Q. Next, we'll look at the factors that drive NVIDIA's ASPs (average selling prices).