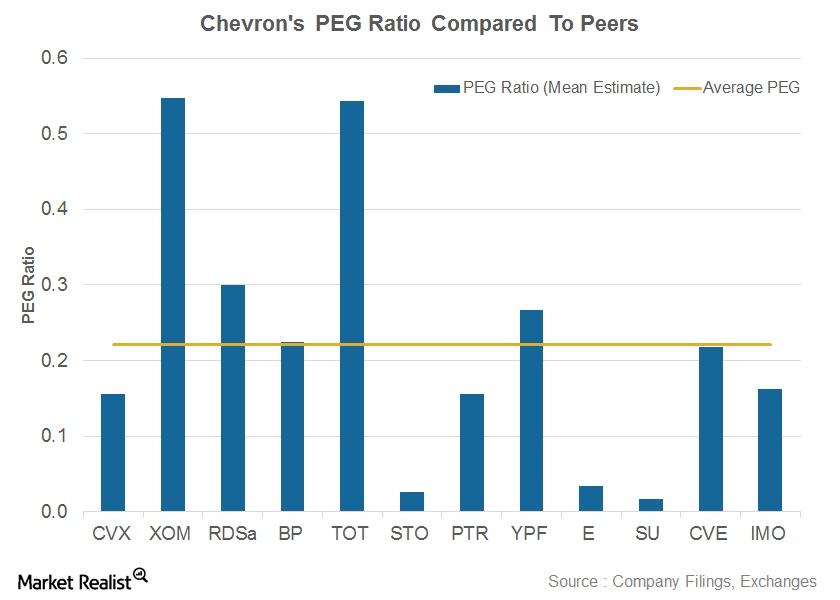 What Chevron's PEG Ratio Reveals
By Maitali Ramkumar

Nov. 20 2020, Updated 2:33 p.m. ET
Chevron's PEG ratio
In the previous part of this series, we looked at Chevron's (CVX) short interest, which reflected a marginal rise since the end of April. In this part, we'll perform a valuation analysis beginning with the PEG ratio.
PEG ratio stands for the price-to-earnings-to-growth ratio. This ratio examines a stock's valuation after factoring in its expected future growth rate. We have taken into consideration Chevron's (CVX) mean estimate of its PEG ratio.
In the next few parts of this series, we'll also look at Chevron's forward valuations in comparison to its peers and the company's historical valuation trend.
The mean estimate is calculated by considering CVX's mean price-to-earnings ratio and its mean blended earnings growth rate. The PEG ratio that is less than 1 typically signifies an undervalued stock.
Chevron's PEG ratio stands at 0.16, which is below the peer average of 0.22. The peer average considers the average PEG ratio of 12 global integrated energy companies.
Article continues below advertisement
Chevron's growth plans
The PEG ratio considers a company's growth rate (in earnings) for the next two years as well as its long-term growth rate. Chevron plans to grow its earnings via its robust Upstream segment and competitive Downstream segment. Chevron anticipates growth in its Upstream segment in terms of higher volumes and better margins to increase its earnings.
CVX's capital expenditure (or capex) is primarily focused on its Upstream segment's growth. Chevron announced $19.8 billion of capex for 2017. In 1Q17, Chevron's capex stood at $4.4 billion, of which 90% was in the Upstream segment, 9% was in the Downstream segment, and 1% was in other activities.
Although Chevron's 2017 estimated capex is 12% lower than its 2016 capex, it aims to strike a balance between growth and financial strength in terms of relatively lower capex outflows.
Chevron's vast proved reserves of 11.1 billion barrels of oil equivalent could provide long-term growth to its upstream hydrocarbon production. For more on the company's upstream growth, please read Chevron's Upstream Segment: Production Growth on the Horizon?
Peers' PEG ratios
ExxonMobil (XOM), Royal Dutch Shell (RDS.A), and BP (BP) are trading above the peer average with PEG ratios of 0.55, 0.30, and 0.23, respectively. Among the other global players, Total (TOT) and YPF (YPF) trade above the peer average at 0.54 and 0.27, respectively.
Typically, the higher the PEG ratio is, the more expensive the stock could be, after considering future growth.
PetroChina (PTR), Statoil (STO), ENI (E), and Suncor Energy (SU) trade lower with PEG ratios of 0.16, 0.03, 0.03, and 0.02, respectively.