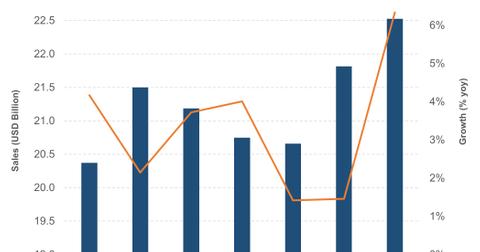 Walgreens's Pharmacy USA Division Delivers Superb 3Q17 Performance
By Sonya Bells

Updated
Retail Pharmacy USA division shows strong growth
The Retail Pharmacy USA division accounted for ~75% of Walgreens Boots Alliance's (WBA) top line in 3Q17. There was a growth of 6.3% in this segment's revenue as compared to a 1.4% average growth during the first two quarters of the year. Stronger numbers were a result of an increase in prescriptions signed during the quarter, largely attributable to the company's new strategic partnerships. Comparable sales were up 3.7% during the quarter.
"Our results this quarter continued to meet our expectations as strategic partnerships brought more patients to our U.S. pharmacies. This led to our highest reported quarterly retail prescription market share in the U.S," said executive vice chair and CEO, Stefano Pessina, during the earnings call.
Article continues below advertisement
Evaluating the pharmacy division's 3Q sales
Pharmacy sales, which accounted for 70% of the division's total sales, reported a solid 10.3% YoY increase during the quarter, which compares to a 2.5% increase in 1Q and 3.7% jump in Q2 sales.
The improvement was largely driven by a rise in prescription volumes following the formation of AllianceRx Walgreens Prime. Comparable pharmacy sales improved 5.8% YoY, driven by an increase in volume.
There was an 8.5% increase in total prescriptions filled. Prescriptions filled at comparable stores jumped 8.3%. As in the last couple of quarters, comps growth was driven by growth in Medicare Part D and a volume increase resulting from previously announced strategic partnerships.
In comparison, CVS Health (CVS) reported an 8.5% YoY growth in pharmacy services segment revenue, which stood at $31.2 billion in the last reported quarter. Pharmacy same-store sales fell 4.7%.
Evaluating the retail division's sales
WBA's retail business in the US, however, continued to deteriorate. Sales were down 1.8% during the quarter, driven by the closure of certain e-commerce operations and a 0.4% fall in retail comps.
In comparison, revenues from CVS Health's retail segment fell 3.8% during the last reported quarter, driven mainly by a 4.7% fall in sales comps.
ETF investors seeking to add exposure to WBA can consider the iShares US Consumer Services ETF (IYC). IYC invests 2.2% of its portfolio in WBA.