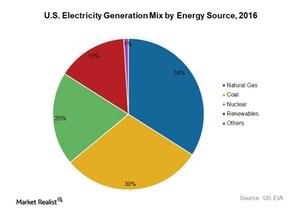 US Nuclear Power Producers Are Asking for State Help
Nuclear energy is not completely climate friendly 
If nuclear power plants shut down, that power generation share is expected to be eaten up by coal or natural gas. Thus, from an environmental perspective, nuclear closures seem like a regressive step. US nuclear power producers are seeking the government's help on the grounds of safeguarding employment and a cleaner environment. It's true that nuclear generation doesn't involve fossil fuels or emit greenhouse gases, but it's not completely climate friendly.
Managing nuclear waste is a tough task, and accidents release a great deal of radioactive material into the environment. Fukushima in Japan and Chernobyl in Ukraine witnessed the worst nuclear accidents in the past and are facing severe climate issues.
Article continues below advertisement
Nuclear power construction
Southern Company (SO) and SCANA (SCG), some of the largest regulated utilities, are constructing nuclear facilities in Georgia and South Carolina, respectively. Industry experts claim that due to uneconomical nuclear generation, Southern Company might consider converting the plant to gas.
After Westinghouse Electric, the principal contractor for both the above-mentioned nuclear plants, filed bankruptcy in March 2017, the completion of already delayed and half-constructed plants became a huge concern.
Northeast and mid-Atlantic nuclear power plants are becoming uneconomical, and according to Bloomberg, if states decide to aid all the 28 GW (gigawatts) of nuclear generation there, the burden would ultimately fall on ratepayers and would cost an annual total of $3.9 billion.
Read more about US utilities (XLU) and how the industry works in Powering Up: All You Need to Know about Utilities.