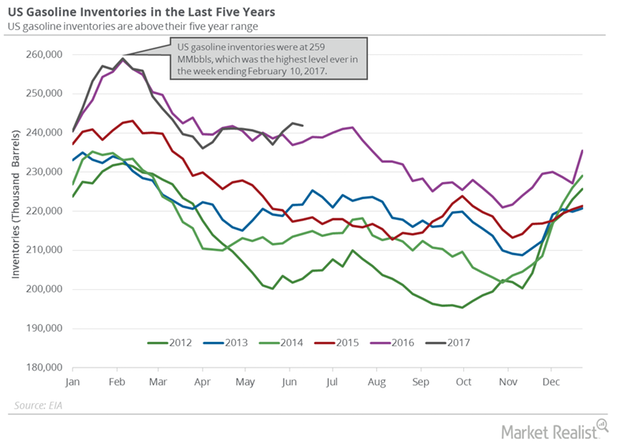 US Gasoline Inventories Could Help Crude Oil Bulls
US gasoline inventories 
The U.S. Energy Information Administration released its weekly petroleum status on June 21, 2017. It reported that US gasoline inventories fell by 0.6 MMbbls (million barrels) or 0.23% to 241.9 MMbbls on June 9–16, 2017. US gasoline inventories rose 1.8% from the same period in 2016.
An unexpected fall in US gasoline inventories and a larger-than-expected fall in crude oil inventories didn't support WTI crude oil (FXN) (IXC) (IYE) futures on June 21, 2017. WTI crude oil prices fell 2.3% on June 21, 2017, due to oversupply concerns.
Article continues below advertisement
US gasoline production, import, and demand 
US gasoline production rose 3.2% to 10,163,000 bpd (barrels per day) on June 9–16, 2017. Production fell 1.2% YoY (year-over-year).
US gasoline imports rose by 335,000 to 909,000 bpd on June 9–16, 2017. Imports fell 3.7% YoY.
US gasoline demand rose 5.9% to 9,816,000 bpd on June 9–16, 2017.
Impact of gasoline inventories  
US gasoline inventories are above the five-year average. However, the expectation of record gasoline demand this summer could drain US gasoline inventories. It would support gasoline and crude oil prices.
In the next part of this series, we'll take a look at US distillate inventories.