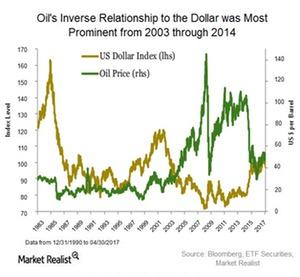 Significance of the US Dollar in Driving Oil and Energy Prices
By Maxwell Gold

Jun. 20 2017, Updated 2:05 p.m. ET
ETF Securities
Changing Dollar Dynamic
The rule of thumb known to many investors is that the US dollar has an inverse relationship with oil and energy prices. This negative relationship was most prominent from 2003 to 2014 (see "Oil's inverse relationship to the dollar was most prominent from 2003 through 2014" chart below). During this period the US current account deficit rose driven by oil imports which boosted oil prices. Concurrently, this led to a large build-up of current account surpluses (held in USD) in oil exporting economies increasing the supply of USD reducing its value.
Article continues below advertisement
While oil and USD have a -0.11 correlation since 1983, this traditional relationship has broken down in recent years and is currently positive (see "Oil and USD correlation currently positive" chart below). This low and positive correlation with USD may likely continue with the dollar's significance as a driver of oil and energy prices becoming more muted in markets.
As the US has ramped up its domestic production since 2010, this has increased its energy self-sufficiency. This changing supply dynamic has simultaneously aligned US growth much closer to global energy markets, leading the USD to behave more like traditional commodity currencies. Unlike recent decades, as the US's role as the global swing producer continues, markets will likely see oil markets continue to be driven more by fundamentals.
Market Realist
Relationship between US Dollar and oil prices
Historically, the US dollar (UUP) and crude oil prices (BNO) (PXI) have shown an inverse relationship. A declining US dollar has been beneficial to crude oil prices, and vice versa. However, over the past few years, the trend seems to be reversing, as you can see in the second graph below. The relationship between the US dollar and oil prices is looking positive, which suggests that a declining dollar can no longer help boost oil prices. The US dollar started gaining strength after the presidential elections and the Fed rate hike in 2016.
Article continues below advertisement
The US dollar gained strength in anticipation of an improving economy, a fiscal stimulus, rising inflation, and possible tax reforms under the new administration. The PowerShares DB US Dollar Bullish ETF (UUP), which tracks the performance of the US dollar, rose 4.0% in 2016. The December 2016 Fed rate hike, the second hike in a decade, and the Fed's recent rate hike of 25 basis point in March 2017 helped the dollar gain further strength.
However, concerns arose regarding President Trump's delay in tax reforms and other promised regulations, which started adversely impacting the dollar. The US dollar has fallen 6.0% year-to-date as of June 9, 2017. Expectations of further rate hikes in 2017 could also cause volatility in the US dollar index in 2017. Looking at the current correlation between the dollar and crude oil and the volatility in the US dollar, we can conclude that crude oil prices are driven by other fundamental drivers, which we'll look at in Part 5 of this series.
Changes in crude oil prices affect the earnings of various energy companies (SFY) (HES) (CVX) and the overall energy sector (XLE).