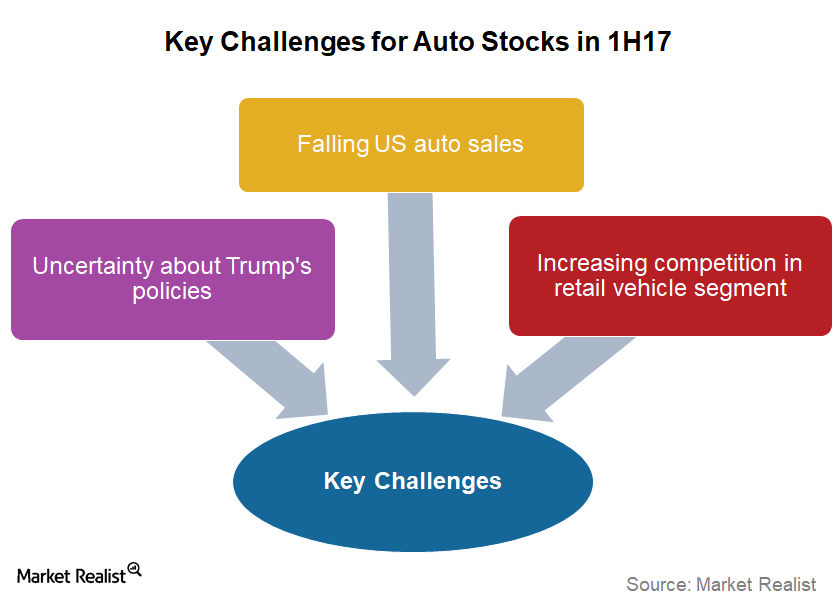 US Automakers Faced This Key Challenge in 1H17
Lower US auto sales
General Motors (GM) and Ford Motor Company (F), the two largest US automakers, faced several challenges in 1H17. Among them, falling total US auto sales could be considered the key challenge. Until May 2017, US auto sales fell 2%, compared to the same period in 2016.
To reduce the negative impact of these falling auto sales, mainstream automakers started focusing on the highly profitable segments of their businesses. Segments such as retail sales and heavyweight vehicle sales tend to yield higher profits than fleet sales and small car sales.
Article continues below advertisement
Could this challenge continue in 3Q17?
According to the data collected by Autodata, US truck sales rose 4.7% YoY (year-over-year) in the first five months of 2017. At the same time, small car sales in the country fell 11.0%. A fall in total US auto sales certainly raises concerns about the future of vehicle demand in the country. However, on the bright side, a handsome rise in US truck demand has kept automakers out of trouble so far this year.
Low gasoline prices could justify higher sales of trucks and utility vehicles. Therefore, we can expect this positive trend in heavyweight vehicle sales to continue in 3Q17.
Note that any big fall in US auto sales could negatively affect auto giants (FXD) including GM, Ford, Fiat Chrysler Automobiles (FCAU), and Toyota Motor (TM).
In the next article, we'll explore General Motors' financial performance over the last few quarters.