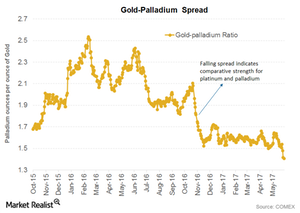 Understanding the Gold-Palladium Ratio
By Meera Shawn

Updated
Palladium skyrockets
Palladium has been much stronger than its fellow precious metals, having seen a YTD (year-to-date) gain of 26%. It appears that the preference for palladium over platinum in the diesel-based car engines has driven the metal higher.
But in Europe and India, buyers have come to prefer gasoline-based cars over the diesel-based ones. Since palladium is used in gasoline-based engines, it can closely react to the industrial market.
When we talk about palladium (PALL) markets, it's important to look at the gold-palladium spread, which a measurement of the number of palladium ounces it takes to buy a single ounce of gold (GLD). The higher the ratio, the weaker palladium is compared with gold.
The gold-palladium ratio was at ~1.44 as of June 27, 2017. The price of gold that day was $1,245.3, while the price of palladium was $870.7.
Article continues below advertisement
RSI score
The RSI (relative strength index) level for the gold-palladium spread is now at 37.3. When an RSI level is below 30, there are chances of an upward revision in price, while an RSI above 70 indicates that there may be the possibility of a fall in the asset's price.
Remember, mining companies like Primero Mining (PPP), Barrick Gold (ABX), Silver Wheaton (SLW), and Coeur Mining (CDE) are all impacted by the fluctuations in these precious metals.