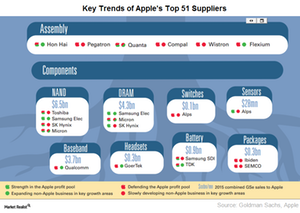 Troubled Relations between Apple and Its Suppliers
By Puja Tayal

Updated
Apple and its suppliers
Apple (AAPL) is a ruler in the premium smartphone market, earning more than 80.0% of the smartphone industry's profits. Premium smartphones require more semiconductor content, which has made Apple one of the top customers for the semiconductor industry (SMH). However, the consolidation of the semiconductor industry and a slowdown in the smartphone market have created trouble between Apple and its suppliers.
Article continues below advertisement
Semiconductor consolidation
As a general practice, Apple sources its components from at least two suppliers in order to get a better price and reduce dependence on a single supplier. However, many of its key suppliers have been acquired since 2013, shrinking its supply chain.
According to Susquehanna Financial Group, SanDisk, Broadcom, Intersil, Sharp, Elpida Memory, RF Micro Devices, TriQuint Semiconductor, and Fairchild Semiconductor were acquired by bigger companies, thereby reducing competition among Apple's suppliers.
Apple brings semiconductor components in-house
These changes encouraged Apple to produce several components in-house. Recently, it told its graphics chip supplier, Imagination Technologies, that it would cut its order in half in two years as it looks to manufacture graphics cards in-house. This made Imagination Technologies stock fall 70.0% in just one day. More suppliers are likely to suffer a similar fate in the coming years.
Apple started in-house production of hardware components with processors and then gradually brought graphics, Bluetooth, and other chips in-house. There are rumors that Apple is looking to bring power-management chips and modem production in-house as well, putting its relations with suppliers Dialog Semiconductor and Qualcomm (QCOM) at risk.
In-house designing helps Apple maintain its top position among suppliers even after semiconductor acquisitions. It also gives Apple full control of its hardware.
Article continues below advertisement
While in-house designing has its own perks, it's also time-consuming and can put Apple at risk of missing out on new technology trends, stated a Bloomberg report citing Canaccord Genuity analyst Mike Walkley. He gave the example of Nokia (NOK), which adopted a similar approach to cut costs and control the component supply chain but instead lost the smartphone inflection point.
Apple is further putting pricing pressure on its suppliers. In 1Q17, it forced its suppliers to reduce their fees for the iPhone 7 by 10.0%–20.0%, according to a Bloomberg report citing Yuanta Securities analyst Jeff Pu.
Suppliers retaliate
The lack of stability in Apple's supply agreement and the demand for cheaper prices are squeezing out suppliers' margins. Moreover, the slowing smartphone market and Apple's dual sourcing strategy have encouraged many suppliers to reduce their dependence on the handset maker through diversification.
In this series, we'll see how Apple's actions are impacting its suppliers' earnings.