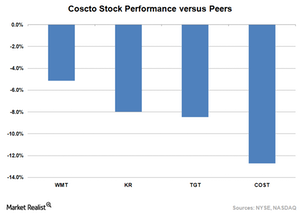 The Story behind Costco's Recent Stock Price Decline
By Amit Singh

Updated
Stock continues to slide on AMZN-WFM deal
It's surprising to see Costco (COST) stock being the worst hit from Amazon's (AMZN) announcement about acquiring Whole Foods (WFM) on June 16. Until the announcement of the AMZN-WFM deal, market participants praised Costco's business model and praised the stock for being least exposed to the growing threat of online players. But now, with Amazon taking long strides in the grocery space, analysts worry about Costco's prospects. Costco stock fell 12.7% in the last six trading days (as of June 23)—the biggest fall among our select set of mass merchandisers and grocery retailers.
In comparison, Walmart (WMT), Kroger (KR), and Target (TGT) fell 5.2%, 8.0%, and 8.5%, respectively, during the same period.
Article continues below advertisement
Why Costco is being unfairly punished
Costco continued to post industry-leading comps (comparable-store sales) growth despite challenges. The company, through its membership-only warehouse model, remained successful in driving store traffic—in contrast with many retailers that succumbed to the shift in consumer shopping trends toward digital platforms.
Grocers are going to face the heat from Amazon's latest move. But, if we consider the combined market share of Amazon and Whole Foods in the grocery space, it doesn't appear big enough to have serious consequences on Costco—or for that matter, on Walmart—at least in the foreseeable future.
Analysts are emphasizing the fact that Costco hasn't done much on the digital side of the business, which makes it vulnerable. Moreover, the company now needs to invest more in its e-commerce platform to remain competitive.
That's a valid point, but if we look at the company's business model, we can see that Costco remains uniquely positioned to fund its growth initiatives. Its latest membership fee hike and savings from its Citi Visa co-brand card program help the company continue to offer value pricing and invest in business to drive growth without affecting margins significantly. Moreover, while Amazon grows its market share, Costco isn't expected to sit idly by.
Continue to the next part of this series, where we discuss how Costco continues to buck the industry trend.