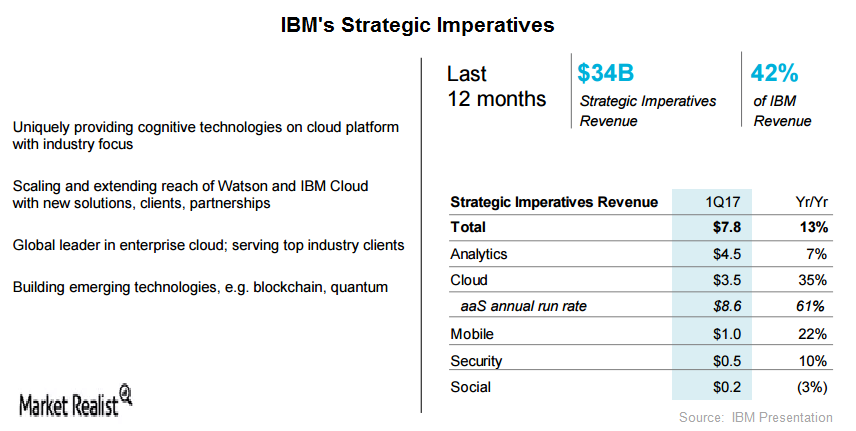 Strategic Imperatives Segment Continues to Dominate IBM's Results
By Anne Shields

Jun. 2 2017, Updated 7:37 a.m. ET
Strategic Imperatives' growth in line with 2018 expectations
As we mentioned in our IBM (IBM) 1Q17 pre-earnings series, IBM's Strategic Imperatives segment was expected to be the key focus of its 1Q17 results. 
The Strategic Imperatives segment relates to IBM's investments in SMAC (social, mobile, analytics, and cloud) and security technologies.
As expected, Strategic Imperatives continued to gain traction in IBM's 1Q17 results. The segment's revenue rose 13% to $7.8 billion in the quarter. Its contribution to the company's overall revenue rose to 43%, indicating a relatively significant improvement compared to the previous year, when it contributed 37% to overall revenue.
In the last 12 months, Strategic Imperatives has brought in $34 billion, ~42.0% of IBM's overall revenue.
Within IBM's Strategic Imperatives segment, cloud revenue rose 35% to $3.5 billion, analytics revenue rose 7% to $4.5 billion, mobile revenue rose 22% to $1 billion, and security revenue rose 10% to $500 million.
Article continues below advertisement
Cloud's contribution
Looking at the steady and consistent growth of the Strategic Imperatives segment, we can see that it's well on its way to meeting IBM's guidance. The company expects the segment to account for 40.0% of its business and be worth ~$40.0 billion by the end of 2018.
Growth in IBM's cloud business was led by 60% growth in cloud as a service. It recorded an annual run rate of $8.6 billion in 1Q17. In the last 12 months, IBM's cloud business has generated $14.5 billion in revenue.
IBM was ranked a market leader in public cloud IaaS (infrastructure-as-a-service) adoption in 2016 by Technology Business Research, an independent technology market research company.