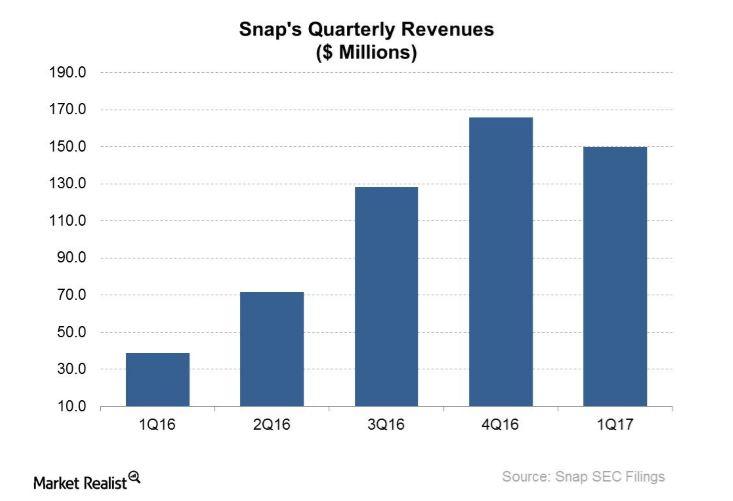 Snap Takes Aim at Facebook with Placed
By Neha Gupta

Jun. 30 2017, Updated 7:37 a.m. ET
Tracking effectiveness of ads
In early June, Snap (SNAP) disclosed that it had acquired Placed, an ad measurement startup. Although Snap didn't disclose how much it paid for Placed, technology news website GeekWire broke the acquisition news and estimated that the deal was worth $200.0 million.
Placed is viewed as a strategic asset for Snap as the company seeks to catch up to Facebook (FB) and Alphabet's (GOOGL) Google in the online advertising market.
Article continues below advertisement
Placed's CEO, David Shim, noted that in the last 12 months, the startup has tracked more than $500 million in media advertising spending aimed at driving store traffic. As an ad analytics firm, Placed helps brands track the effectiveness of their ad campaigns in drawing consumers to physical locations.
Dropping experimental platform tag
Placed is expected to complement Snap's in-house ad measurement tool, Snap to Store. Brands can use Snap to Store to measure the effectiveness of their ads running on Snapchat.
By improving its ad measurement capabilities, Snap can get more brands interested in advertising on its platform. Despite being popular with Millennials—more than 166 million people use Snapchat daily—many large brands still view Snapchat as an experimental advertising platform. 
As a result, Placed is vital to bolstering Snap's competition against Facebook, Google, Twitter (TWTR), and Yelp (YELP) in the battle for marketers' budgets.
Driving rapid topline growth
Attracting more advertisers could lead to more revenues for Snap and more value for advertisers. Snap's revenues in 1Q17 rose 285.8% from 1Q16 to $149.7 million, as shown in the chart above. However, its revenues still came in below the consensus estimate of $158.0 million.