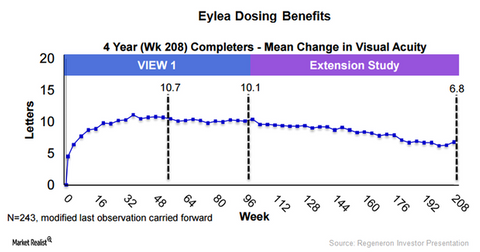 Regeneron Continues to Explore Eylea in Multiple New Indications
By Margaret Patrick

Updated
Multiple new indications
To further expand Eylea's label, Regeneron Pharmaceuticals (REGN) is studying the drug in combination with the angiopoietin2 (or Ang2) antibody nesvacumab, in two Phase 2 trials—RUBY and ONYX. These trials aim to evaluate the efficacy and safety profile of the combination regimen for treating diabetic macular edema (or DME) and neovascular wet age-related macular degeneration (or AMD). Regeneron has completed enrolling subjects for these trials and plans to study the effectiveness of the regimen after treating patients for 36 weeks. Data from these two trials will thus be released in the second half of 2017.
Regeneron is also enrolling patients in PANORAMA, a Phase 3 trial, which will evaluate Eylea monotherapy in patients suffering from non-proliferative diabetic retinopathy without diabetic macular edema.
If Regeneron manages to further expand Eylea's label, it may have a favorable impact on the company's stock as well as the stock of the SPDR S&P 500 ETF (SPY). Regeneron makes up about 0.17% of SPY's total portfolio holdings.
Article continues below advertisement
The above diagram shows data from the Phase 3 VIEW 1 study as well as data from the extension study. In these trials, wet AMD patients who were treated with Eylea for the first year were administered the drug once every 12 weeks in year two, and then once every eight weeks in the third and fourth years. The study showed that vision gains demonstrated by patients at the end of year four were similar to those witnessed at the end of year one.
Long-term treatment benefits
The government-sponsored CATT (Comparison of AMD Treatment Trial) study demonstrated that early visual gains by wet AMD patients could not be maintained over extensive periods, despite treatment with anti-VEGF (anti-vascular endothelial growth factor) agents. It was further seen that in five years after commencing anti-VEGF treatment, about 20.0% of the treated patients had become legally blind. The average patient in this trial lost the ability to read three letters compared to the baseline.
Based on these data, it was postulated that the anti-VEGF agents were either unable to control disease progression or contributed to geographic atrophy in wet AMD patients.
However, the VIEW 1 data show that a fixed interval long-term dosing regimen with an anti-VEGF agent can help maintain vision gains in wet AMD patients. While a PRN (pro re nata) dosing regimen or treatment and extended regimen in which a drug is administered as required is more convenient for patients and doctors, it also results in suboptimal vision benefits and even long-term vision loss.
So as retinal specialists become aware of the long-term disadvantages of irregular dosing regimens, it may boost the overall use of anti-VEGF agents offered by companies such as Regeneron, Pfizer (PFE), Roche Holdings (RHHBY), and Novartis (NVS).
In the next part, we'll take a look at the growth prospects for Regeneron's cardiovascular franchise.