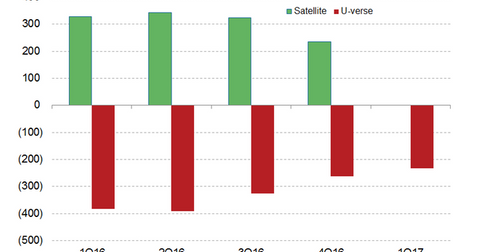 Reasons for AT&T DIRECTV Now's Subscriber Growth Stagnation
By Shirley Pelts

Updated
AT&T's DIRECTV Now subscriber count is shrinking
Late last month, Bloomberg reported, citing people familiar with the matter, that AT&T's (T) DIRECTV Now is experiencing a slowdown in subscriber growth. The report further stated that, while DIRECTV Now had around 328,000 subscribers at the end of January, the streaming service lost ~3,000 subscribers in February, and had flat subscriber growth in March.
According to a report by The Verge from earlier this month, AT&T has also now started offering DIRECTV Now for an additional $10 per month to customers on its Unlimited Choice plan. This move could be a bid to attract more customers to its DIRECTV Now service.
While AT&T had initially offered promotional pricing of $35 per month for around 100 channels at the launch of its DIRECTV Now service, it has now stopped this promotional pricing. Currently, the company is offering 100 channels on DIRECTV Now for a price of $60 per month.
Article continues below advertisement
The stalling of subscribers for DIRECTV Now could be a worrying factor for AT&T, considering that its pay-TV subscriber base is on a decline. In 1Q17, the company lost 233,000 U-verse video subscribers. In contrast, its DIRECTV satellite TV subscriber base stayed flat at 21 million subscribers at the end of 1Q17.
Reasons for DIRECTV Now's flat subscriber base
One reason for DIRECTV Now's stagnant subscriber base could be rising competition from other streaming services like such as Netflix (NFLX). Recent entrants into the online television space including Alphabet's (GOOG) YouTube TV and Hulu.
The launch of DIRECTV Now has been rocky, with the service being dogged by technical glitches. According to Bloomberg, AT&T CEO Randall Stephenson stated at the JP Morgan Technology, Media, and Telecom Conference last month that after the rapid addition of subscribers following the launch of DIRECTTV Now, the company decided to pull back on its marketing efforts. This pull-back could result in DIRECTV Now's subscriber base stagnating.